Carl Froch performed like a champion on Saturday night - but I still wouldn't back him to beat Andre Ward.
It would be a great rematch - Ward won on points when the two met in Boardwalk Hall in December, as I'm sure you'll remember - and Carl, as he showed against Lucian Bute in May, is aggressive enough to cause anyone problems.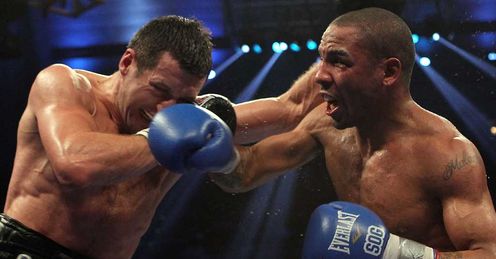 But I just feel that Ward's outstanding technical acumen, which saw him beat Froch convincingly last winter, could be too much for the Briton to contend with once again.
I would put the clash 70-30 in the American's favour but, of course, Carl's chances would be boosted if the fight took place in England and especially Nottingham - and with Ward seemingly open to that idea, I really hope that can happen; it would get British fans buzzing.
Mikkel Kessler, is different and I think Carl would have his number - and I think he would have had his number in 2010 had the fight, which he lost on points, been held anywhere other than in Denmark, Kessler's homeland.
Carl made very light work of Yusaf Mack at the Capital FM Arena at the weekend and made sure that a man who should have had no chance had no chance; he got straight on his opponent, intimidated him from the off and stamped out whatever minor threat he may have posed.
Mack was Froch's easiest bout in quite some time as he is used to facing world champions and for that reason I have to agree with my Sky Sports colleague Glenn McCrory and say that he is one of the best British fighters of all time.
We have had really exciting fighters in the past in guys like Chris Eubank, Nigel Benn, Prince Naseem Hamed and, of course, Ricky Hatton - but how many of these guys boxed the best in the world one after the other after the other?
Carl might not be pretty but he is darn effective.
Tactician
I was very impressed by Tony Bellew on Saturday night, too, with the Liverpudlian light-heavyweight coping with one of the deepest cuts I've seen in my life to defeat Argentina's Roberto Bolonti via a unanimous points decision.
Bellew has this reputation as a banger - and he does like a punch - but people forget that in his amateur days he was quite the tactician, and he showed all those skills against Bolonti after he picked up that nasty gash above the eye in the third round.
Tony took care of himself, didn't get involved in a tear-up against a guy with just one professional defeat and a high spot in all the important rankings, and showed, once again, that he is learning.
I think the cut will keep Bellew out of the ring for around five months - if he comes back sooner his career could be in jeopardy - but when he does return I hope he fights a guy who can sharpen him up that little bit further and get him ready for a showdown with WBC champion Chad Dawson, someone who is very beatable.
The only potential black mark against Tony's name at the moment is that he hasn't yet fought outside of the UK - but I don't think he is the type of guy who would be intimidated by travelling abroad.
Bellew is mentally strong and you could put him in a phone box in Timbuktu and he would box to the best of his ability.
Comments (8)
Fraser Irving says...
It's taken me some time to warm to Froch. Watched nearly all his fights, but I really feel that he is still improving. Should he get the rematch with Ward, I would expect a much closer fight than the first time round. Can't say for sure whether Carl would win, but he started the first fight way too slowly and I doubt he would make the same mistake again. To be honest, I thought the occasion probably got to him a little bit. As far as Kessler goes, I would expect nothing less than a convincing reversal of the first fight, wherever they staged it. Full credit to Carl, he's not avoided any of the key players in the division and (barring the Ward fight) has left everything in the ring. 2013 could be Froch's year of redemption. I'm just not sure yet, but I want to believe.
Posted 23:15 26th November 2012
Les Gardiner says...
Carl Froch is a ver good fighter but Andre Ward is an elite fighter. Over recent years Froch has fought against world class competion but you cannot compare those fighters to Ward. Ward beat Froch convincingly in their last fight and the same would happen in a rematch. Froch would beat Kessler who is well passed his prime; he has never been the same since he was outclassed by Joe Calzaghe.
Posted 20:44 23rd November 2012
Tarun Yadav says...
Froch, cant and wont beat Ward. Besides, after Ward demolishes Pavlik... Ward may just move upto 175lbs.
Posted 14:30 20th November 2012
Connor Smith says...
Ward has barely lost a round in his life. Never been beaten as an amateur or pro. Froch is a great fighter but Ward is an even better boxer than Mayweather. Froch would get dominated even more, Ward broke his hand early on last time. Mack was an average LHW coming down to a weight he hasn't fought at in over 5 years. As good as Froch's performance was, I wouldn't read too much into it. Ward is miles better than Mack.
Posted 12:06 20th November 2012
Nick Berry says...
I usually agree with Johnny but on this one, I see if slightly different. Froch knows it is unlikely Ward will knock him out. Ward does not have the power to KO the Froch granite chin. If Froch approaches Ward with the same tactics as he did against Bute, we may find Ward wanting. Froch would have to take 2 or 3 punches to get inside but then he could go to work. It would not be pretty or styllish but I do think Froch could beat Ward!
Posted 21:55 19th November 2012
Steve Gardiner says...
Spot on Johnny. As much as a Froch fan as i am i just can't see Carl beating Andre Ward. He's too intelligent, technically astute, great on the outside, albeit with an average reach, and can mix it with stronger guys on the inside. Can also take a good punch. He's what you would call the complete fighter. I think it would be great for British Boxing to get him over for a unified showdown but Ward would be leaving with the belts. No disgrace to Carl though, he'll give him a tough fight and i do agree that he'll have Kessler but i can see that being a close fight, even in Nottingham.
Posted 20:27 19th November 2012
Adam Kille says...
Froch is a good solid pro ,but to say he is great is too far. Dont think he would of been able to handle benn and would of ko'd by rnd 5 .....
Posted 18:41 19th November 2012
John Barnes says...
Agree with everything here,Alot of people think Froch can beat Ward just because he beat Mack? He has no chance against Ward
Posted 18:35 19th November 2012