Barrie v Terry
Barrie McDermott and Terry O'Connor go head-to-head with their Super League play-off predictions...
Last Updated: 19/09/13 5:52pm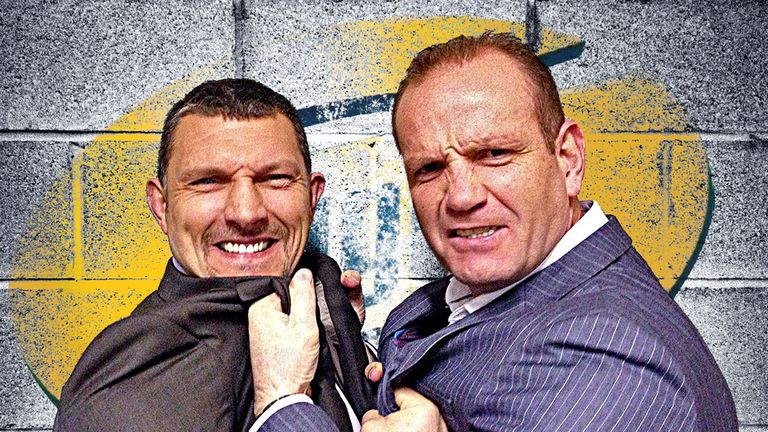 On the pitch Barrie McDermott and Terry O'Connor liked nothing better than tearing into the opposition.
They may have hung up their boots but that competitive streak still runs strong and we have found a way to channel their energies.
Each week they will preview the live televised Super League games and provide predictions for the rest of the action - and we'll keep track of who's called the most matches right.
We will award one point for a win and if they both have picked a winner then the one with the closest score will get an extra point!
Barrie closed the gap by a point and is hoping his predictions will get him on level peggings by the time the Grand Final comes round!
Current standings
Round
Barrie
Terry
Round 1
6
6
Round 2
5
3
Round 3
5
7
Round 4
1
6
Round 5
3
4
Round 6
2
3
Round 7
6
5
Round 8
5
7
Round 9
4
5
Round 10
9
5
Round 11
6
7
Round 12
7
5
Round 13
7
5
Round 14
8
7
Round 15
8
7
Round 16
6
6
Round 17
5
7
Round 18
8
5
Round 19
5
5
Round 20
3
6
Round 21
6
11
Round 22
5
8
Round 23
10
8
Round 24
5
8
Round 25
4
3
Round 26
8
6
Round 27
7
5
First round play-offs
4
3
Total
158
163
Huddersfield Giants V Hull FC
8pm, Thu, Sky Sports 1
Barrie says:
What a disappointment the Giants had after a very useful opening 20 minutes. They looked in full control and then they were all at 6s and 7s. The Giants 6 and 7, Danny Brough and Luke Robinson gave way to the 6 and 7 of the Warriors as Blake Green and Matty Smith took control. Both Robinson and Brough will want and need to establish themselves against the Hull pair of Daniel Holdsworth and Jacob Miller because if they don't, I'm afraid the Hull enthusiasm could prove to be too good for Huddersfield.
Both teams have a lot to play for. Hull to wash the memory away of the Challenge Cup Final and the Giants have to win the Grand Final to show everyone outside of their own supporters that they are a top team. I think that the chance of redemption of the Giants halves will make more of a difference than their Hull counterparts. The Huddersfield three-quarters didn't come up to scratch last week but they will step up this week to be too much for the Black and Whites outside backs. The forwards of each team will work hard and it is going to be interesting to see who comes out on top of the hookers - Dream Team Shaun Lunt or Danny Houghton the extraordinary Hull number 9.
BARRIE PREDICTS: In my view it will be Huddersfield who have more attacking option and the League Leaders will spark the win and join the play-offs a week later. Giants by 18 points.
Terry says: I thought defensively Hull looked superb last week against Catalan. If you look at the Super League charts after 27 rounds, I think they finished with the 4th best defence, and defence wins you the big games in the play-offs, although you obviously have to score points as well. The reason they are in the play-offs is because they defend well as a team, but what they need to do is create and build pressure. If they do that they can progress.
This will be a huge test against the league leaders shield winners. They let themselves down last week and I honestly thought they got bullied by Wigan. The challenge will be firmly laid down to the Giants and I expect a few players to respond. You will see from the start if they are up for the battle.
A few bruised ears from the Wigan review will be fresh in their minds and I'm backing them to bounce back emphatically. I have known Paul Anderson for years and he will not stand for players who don't rise to the physical part of the game. It was an off-day for a number of them but I back the same lads that played below par to have a massive game.
Huddersfield finished top after 27 rounds because they played consistently well. Consistency is what they need for three more games if they are going to make it to Old Trafford and lift the trophy.
TERRY PREDICTS: A big effort from Hull, but a turnaround in form from a Giants side that are hurting and itching for kick off. Giants by 14.
Leeds Rhinos V St Helens
8pm, Fri, Sky Sports 1
Barrie says:
I am confident that this will be the best play-off game of this year's extravaganza. Both sides believe they can win the Grand Final and see each other as a stumbling block, albeit a very big one. Jon Wilkin is proving to be a very adept stand off and everyone can see how his out of hand kicking game has improved during the season. That alone won't be enough to see the Saints through though. Kevin Sinfield, the Rhinos skipper, will prove on his own piece of grass that he is the best and most valuable player at this intense level. The Leeds skipper will admit he was second best in that department to the Wolves stand-off Lee 'big fist' Briers last week and will make amends for that. Rob Burrows loves the play-offs, loves the pressure and intensity of this competition that obviously brings out the best in him. To match him the Saints have Jonny Lomax who is equally as dangerous firing on all cylinders. A big question for Leeds has to be ' how can we stop James Roby'? A great question that the Rhinos coaching staff will have found an answer to (the south standers hope). Roby for me is the one who will cause the most problems to enable the likes of Jordan Turner, Lance Hohaia and Francis Meli to have the space to create havoc for the Rhinos ever improving full back Zac Hardacker. Tony Pulietua and Louie McCarthy-Scaresbrook will want to show that they can match it with the Rhinos front rowers Jamie Peacock, Kyle Luileui and future international Brad Singleton so keep an eye out for a bit of fireworks in the middle (all legal and fair of course!) during the game from these two.
BARRIE PREDICTS: It will be a thoroughly exciting game but a home win by six points.
Terry says: I'm sure Leeds will be the favourites for this game. Playing at home with all their play-off experience and they have two men in particular who will lead the Leeds Rhinos players into battle. Kevin Sinfield is the most influential player in the club's Super League history, a brilliant outstanding person and individual. We then have Jamie Peacock who is looking to play in his 11th Grand Final, unbelievable from a 35 year old forward who many players are tipping for the Man of Steel.
Great sides can bounce back and perform and the Rhinos are one of the best come this time of year.
Saints are on a roll winning seven out of the last eight games. Jon Wilkins kicking game was brilliant last week and his battle with Sinfield will be crucial. Both will need a near perfect kicking game and they know they are the main playmakers within the side. James Roby will help the Saints and he will be looking for a big performance as he wants that England No.9 shirt for the World Cup. Jonny Lomax v Zak Hardaker will be a very good battle and as Stevo says "It will be worth the admission fee alone" to watch these young stars, although I have never seen Stevo pay to get into a ground!
TERRY PREDICTS: I will go head to head with the fatman (Barrie, not Stevo!) and go with Saints. St Helens have won on their last three visits to Headingley and I think they will rack up another win by two points.