Westwood admits to play-acting
England forward Ben Westwood 'put on an act' in an incident at Wembley that could see Australia's Tony Williams hit by charges.
Last Updated: 06/11/11 3:31pm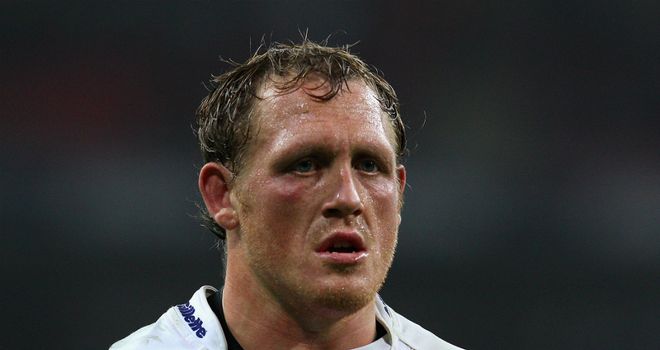 England forward Ben Westwood 'put on an act' in an incident at Wembley on Saturday that could see Australia's Tony Williams hit by charges.
England coach McNamara insisted the Kangaroos substitute should have been sent off for the high tackle that floored the Warrington second rower six minutes into the second half with the game in the balance.
Instead the 22-year-old Manly Sea Eagles forward was placed on report by referee Henry Perenara and the incident will be studied on Monday by an international match-review panel which will decide whether to press charges that could see Williams miss the final.
"It was a bit of play-acting," said Westwood, after the 36-20 defeat. "I looked up and started smiling, then I put the act on. It's part and parcel of the game."
When told slow-motion replays indicated Williams' arm had caught him flush on the side of his head, Westwood added: "Apparently so but I'm all right and I felt all right at the time.
Disciplinary
"I'll probably see it next time we're in camp. I forgot to put in on tape.
"If it was a high shot, I'm sure the disciplinary will have a look at it and decide what they want to do with it."
McNamara clearly believes action needs to be taken and he was equally adamant the 31-year-old Perenara, a New Zealander in charge of only his second Test match, blundered again a minute after the Williams incident by disallowing a try to Tom Briscoe.
Perenara ruled the Hull winger had made a double movement, even though the elbow of his ball-carrying arm had not touched the ground, with McNamara and the 42,344 crowd screaming for the official to consult video referee Ian Smith after watching the incident on the big screen.
"I didn't see it, I was too busy asking for the video ref," said Briscoe. "I was a little disappointed he didn't refer it.
"My elbow didn't touch the floor and I just reached out and put it over so. He saw it a different way and it's his decision at the end of the day. It's happened and I can't change it."
Trailing 18-8 at the time, the gap could have been down to just four points but Briscoe refused to blame the referee's decision for the defeat.
"It could have been a turning point but we made enough mistakes for that not to count and put us in that situation," he said. "It was down to our own fault in the end."
McNamara, who was convinced Perenara had been affected by Australia's criticism of Warrington official Phil Bentham after their opening match against New Zealand, expressed his disappointment that the performance of referees rather than players was once more the main talking point.
The controversy overshadowed an impressive England performance, highlighted by two superbly-finished first-half tries from Leeds winger Ryan Hall, which came despite losing three of their key forwards to injury.
Heroic
James Graham and Gareth Ellis went off with back injuries before half-time, which forced captain Jamie Peacock to heroically return to the field despite suffering damage to his knee.
"I saw him crumble in that tackle and I knew something wasn't right," said Peacock's club captain Kevin Sinfield.
"But to lose three big blokes made life very tough for us and, for Jamie to put some strapping on and come back out like he did, just shows the warrior he is.
"He is our leader and playing for his country means so much to him."
England battled to the end and were rewarded with further tries by NRL-based duo Jack Reed, who continued to impress at centre, and Chris Heighington.
In the end they paid the price for a series of defensive errors but did enough to suggest they could get the better of Australia in the final, as long they get past New Zealand in their crucial final group game at Hull next Saturday.
"We hung in there and put in a good performance," Briscoe added. "We obviously lost and we know we've got a lot to work on still.
"But we improved on last week and we'll improve again for New Zealand next week."