Hodgson: It's a huge honour
Brett Hodgson is determined to heap more agony on England in this season's International Origin Series.
Last Updated: 15/03/12 7:10am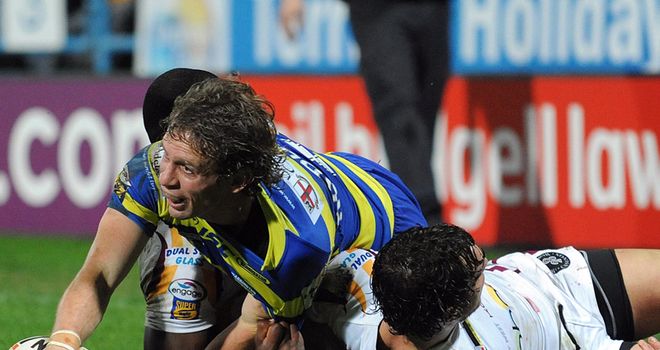 Australian Brett Hodgson is determined to heap more agony on England in this season's International Origin Series.
The 34-year-old Warrington full-back, who was in the Exiles side that beat Steve McNamara's men 16-12 in last year's inaugural fixture, will captain them in the two-match series this summer, starting at St Helens on June 16.
The former Wests Tigers and Huddersfield skipper has been chosen by new Exiles coach Daniel Anderson as the successor to Leeds hooker Danny Buderus, who has returned to Australia.
"Daniel rang me up on Sunday morning and I was thrilled to get the call," Hodgson said. "It's a huge honour for me. I'm rapped to be part of the process, just as I was last year.
"We got on really well last year. The New Zealand boys and the Aussies all clicked as soon as we got together. We were very relaxed and everyone was in good humour.
"There will be a little more spice this year with there being two games and to have one of them on a stand-alone weekend is really good news.
Revenge
"There might also be a revenge factor for the English side."
Anderson, who is now a commentator for Australian radio, is part of a completely new management team following the return to the NRL of last year's coaching duo Brian McClennan and Terry Matterson.
Former Bradford and Wakefield forward Glenn Morrison will be Anderson's assistant while ex-Bradford captain and Kiwi international Robbie Hunter-Paul and Hull director of rugby Shaun McRae make up the rest of the backroom staff.
Hunter-Paul, who has taken up a marketing role with Huddersfield since hanging up his boots at the end of last season, sees his appointment as an opportunity to further strengthen the England team in the build-up to the 2013 World Cup.
"It's weird because I have lived here almost as long as I did in New Zealand," he said.
"People know how much I care about the English game and that is why I still live here and do all I can to promote it.
"What we need is a real challenge for the England side in mid-season and that's what the Exiles gives."