2013 rugby league World Cup: Steve McNamara happy with England programme
Steve McNamara insists England have been preparing for the 2013 rugby league World Cup for years.
By SkySportsPeo
Last Updated: 11/05/13 1:08pm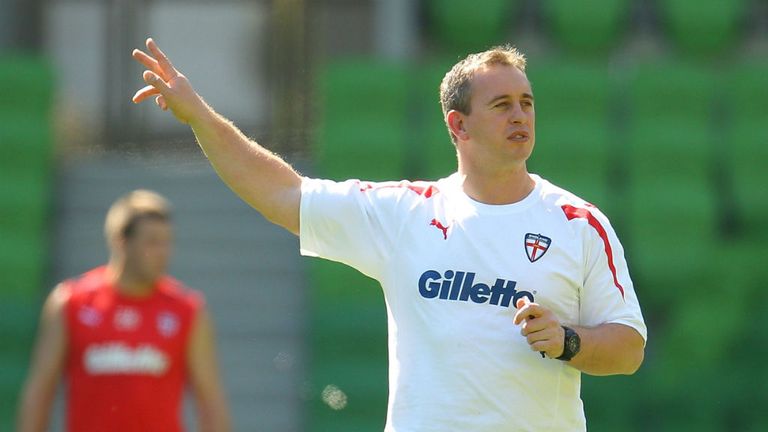 The game's showpiece event, which gets underway on October 26 at the Millennium Stadium in Cardiff, is being staged in England, Wales, Ireland and France with the final held in Manchester at Old Trafford on November 30.
England, who first played in the competition in 1975, are among the contenders to claim the world title, although Australia and New Zealand will once again be the teams to beat.
The team has a new look and feel since Tony Smith took charge of the nation for the 2008 tournament in Australia, where the team suffered a semi-final exit to eventual winners New Zealand.
"Our personnel and programme has changed dramatically since our last World Cup," McNamara told Sky Sports. "It's not just get ready for the World Cup in the last six months, or last few months or weeks going into the tournament.
"This has been on-going process for a long period of time. Our aim is to be in the best-prepared position we can be going into that tournament. It doesn't guarantee success, but it does guarantees us every opportunity to be successful."
Ideal world
England warm-up for the tournament with a game against the Exiles next month and McNamara insists that in an ideal world he would like his troops to play together more frequently ahead of the mouth-watering tournament at the end of the season.
"In an ideal world we would like to play more as an international team, but the way we're set up now we're not a centrally contracted sport," he continued.
"We basically borrow the players from the Super League clubs. We're not like cricket or rugby union. We don't have the facilities to do so at this moment in time."
McNamara is casting his net far and wide in order to ensure he has the strongest squad possible for the World Cup and that means the cream of the crop needing to play at a consistently high level in order to stay in contention.
Wakefield Wildcats' Ben Cockayne has already forced his way into the reckoning following an excellent start to the Super League season and former Bradford boss McNamara insists the challenge has been set.
"We monitor every single player in the Super League competition and the NRL, the Australian competition, as well. We can compare like-for-like.
"We understand to win the World Cup we have to reach a certain standard. The challenge to the players in the ETS, which is our Elite Training Squad this year, has been to achieve those standards week-in, week-out in the Super League competition.
"If we do that on a regular basis throughout the season, again it gives you a better opportunity to perform at the end. If you just try to put in a couple of big games at the end of the season and put that into a World Cup then it becomes very difficult."
Talent
England now have a wealth of talent in Australia's National Rugby League with the likes of Gareth Whiddop, James Graham, Sam Burgess, Jack Reed and Australia-born Chris Heighington playing among the elite.
McNamara is keen to keep all the players on his radar in the loop and feel part of the squad and he will fly to Australia in order to bring those stars up-to-speed on the latest developments in England.
He added: "I think if the pendulum swings too far one way and we get too many going across there (the NRL) it dilutes our Super League competition and makes that too weak which doesn't enhance the standard of play across here, but at the same time the level of competition that they are being faced with out there is really bringing them on as players.
"I'm happy as an England coach at this moment in time to have a really strong squad of players based in the Super League who are very, very capable at playing international level.
"I'm working with that group on everything that we do, but I'm also really happy there is a small group of players based out in Australia who are different type of preparation. When we mix those two preparations together it becomes a very potent force.
"The players out in Australia are getting a lot of support from ourselves. They get an update on the programmes that we are doing, but I will go out after our Exiles game in June and sit down and go through everything we've done with the England team up until that point so they don't feel isolated and do feel part of our group, albeit 12,000 miles away."
Gillette's Great Start programme celebrates the role of coaching and encourages people to get into coaching by offering grants. To apply for a coaching grant visit www.facebook.co.uk/GilletteUK open from the 9th May