Super League: Giants coach Paul Anderson is frustrated by the ClubCall system
Paul Anderson says he is annoyed he does not yet know who his Huddersfield side will be facing next.
Last Updated: 20/09/13 11:44am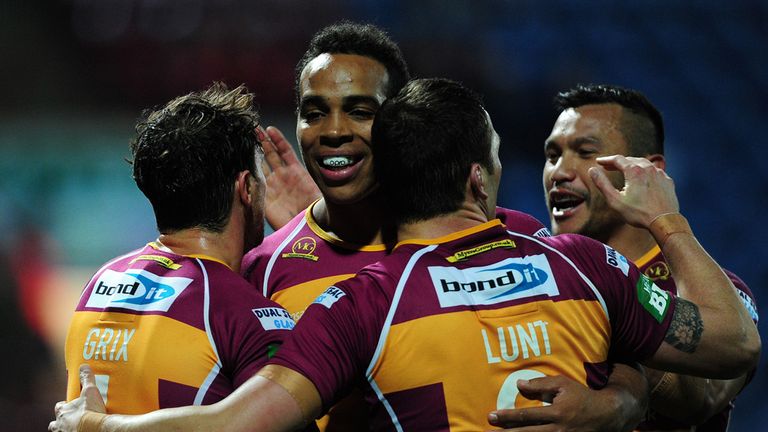 The Giants thrashed Hull 76-18 on Thursday night in the first preliminary semi-final at the John Smith's Stadium and are now just 80 minutes away from a maiden Grand Final appearance.
However, they will not know their next opponents until Warrington have made the controversial ClubCall on Sunday.
And Anderson said: "I couldn't care less who we're playing, I'd just like to know now who it is so that we can plan and get things going.
"I think having to wait until Sunday is crackers. You know you're playing Thursday or Friday but are you training Sunday or are you training Monday, and when do the players have their day of rest?
"When do I start looking at Wigan or Warrington, watching them for tips and things like that? We can't change it, I'm just glad I can moan about it."
Pleasing
It was not all doom and gloom for Anderson however, who was thrilled by the way his side gained revenge for a 46-10 play-off loss at the KC Stadium last season.
"It was the manner of our victory that was especially pleasing," he said.
"It was special and, for 40 minutes, we were ruthless. When you are on such a roll, you become hard to stop.
"We haven't done anything different to what we've done all season. There was a collective understanding that last week wasn't good enough. We had to put it right and we did.
"The scoreline was irrelevant, to be honest. I feel for (Hull coach) Peter (Gentle) and I can sympathise with him, because this time last year I was in his shoes."
Hull suffered the worst first-half in their 148-year history and trailed 54-6 at the interval, although they restored some pride after the break.
"One hundred per cent it's my lowest point," Gentle said. "It's a bitter pill to swallow.
"I am very disappointed for the fans who paid good money to watch that. One side was white-hot and the other was not at the races.
"We've been running on empty for a few weeks. Last week we dug deep and found a way to win but today was a game too far, although that's no excuse for what happened tonight."