Rugby League World Cup: Steve McNamara wants to lead England to glory
England coach Steve McNamara is determined to end 41 years of hurt and to keep the job after the Rugby League World Cup.
Last Updated: 14/10/13 7:52am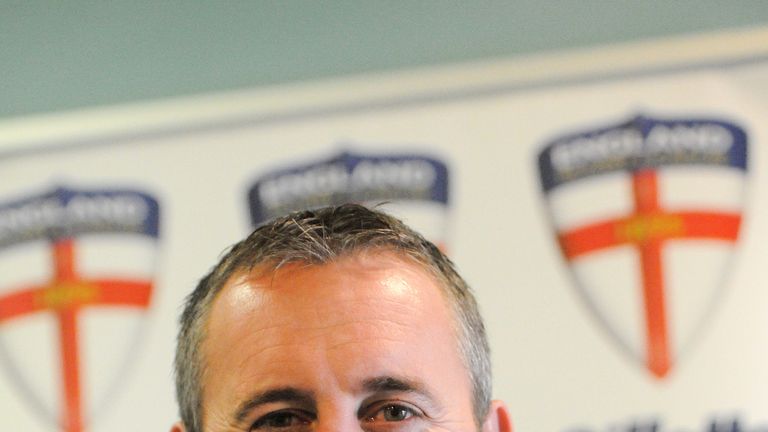 McNamara's contract with the Rugby Football League runs out at the end of the World Cup, which will be launched at Old Trafford next Monday and reach a climax there on November 30, and he has already been linked with a host of recent vacancies as well as a move into rugby union.
But McNamara is confident he has assembled the ingredients for success, both in the long and short term, and is hoping to get the chance to continue in the role from 2014.
"I've really, really enjoyed this job," said McNamara, speaking from the England camp in Potchefstroom, South Africa. "Putting the whole project together has been very enjoyable.
"I'll have to give it some serious consideration afterwards but it's been a good job and one that I will hopefully get an opportunity to continue in."
McNamara was appointed as England's full-time coach in 2010, taking over from Tony Smith after acting as his assistant at the 2008 World Cup.
Successful
He formed an elite training squad and the England Knights with the principle aim of guiding the national team to a first World Cup triumph since 1972.
"I think we'll be successful," he said. "I think we'll get an opportunity do some things that no other team for over 40 years has done.
"I was born in '71 so it's been a whole generation of us not seeing success against Australia. I think that has hurt us as a sport and we need to break that cycle.
"The people who achieved that back in '72 got the job done in a fashion that was tough and determined and we need to replicate that and give the generation of kids who are coming through now something to aspire to."
Whether or not England enjoy success over the next six weeks, McNamara believes the future is rosy for the national team.
"If you look at this squad, other than a couple of senior players, particularly in the back row and Kev (Sinfield) in the halves, and see how fit, young and virile it is and how many years it's got left in front of it and I think it's a really exciting time for the England rugby league team," he said.
Undecided
McNamara will return with his squad from South Africa on Wednesday and put them through their paces in a friendly against Italy at Salford City Stadium on Saturday before they begin the serious business against Australia at Cardiff's Millennium Stadium a week later.
The coach says he is still undecided over the make-up of his team to face the Kangaroos, who flew out of Sydney on Monday morning, and will give most of his squad game time against either Italy or for England Knights against Samoa in the curtain-raiser at Barton.
"There is a lot of water to pass under the bridge yet," McNamara said. "We've got three very intense sessions to come whilst we're out here in South Africa and there is a game to play against Italy.
"We want to give as many people as we can a run-out in that game and some will play in the England Knights if we feel they need a little bit more game time, which they will be able to get in that fixture."
Two players who will definitely not feature in either match on Saturday are Warrington forward Ben Westwood, who is suspended, and injury-dogged Wigan loose forward Sean O'Loughlin, whose only matches in the last three months have been the Challenge Cup final and the Grand Final.
"I'm very pleased with where Sean is but we certainly won't play him in the Italy game," McNamara said. "We need him to be available not only for the first game against Australia but for the rest of the tournament.
"We feel, with the limited amount of game time he's had, he needs to go through a couple of weeks of sustained training before we'll consider him for any of the games."