Super League: Leeds Rhinos' Ryan Bailey gives his thoughts on his career so far
Read what Ryan Bailey had to say when our man Jordan Fiddes caught up with the Rhinos stalwart.
Last Updated: 23/01/14 10:19am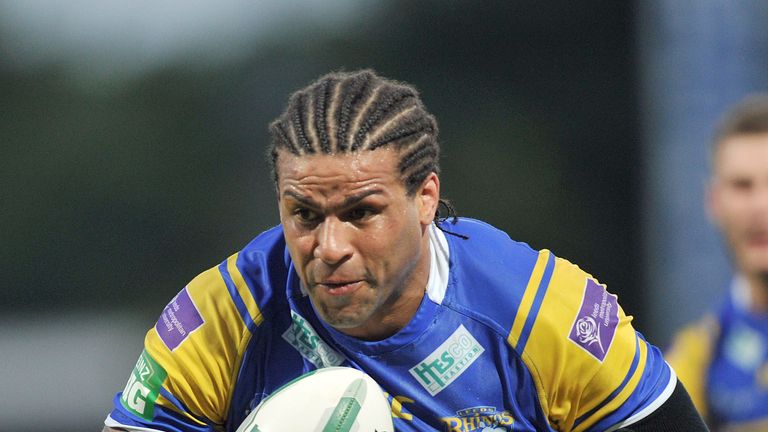 With tattoos covering most of his skin - including one on each eyelid - the Leeds Rhinos prop is easily identifiable.
What most people might not know is that he has appeared in 16 finals for the club he supported as a boy and scooped six Grand Final winners' rings on the way.
In 2014, the Rhinos "bad boy" approaches his testimonial year in what he describes as "giving something back to the club who has been his most loyal supporter."
Described by many as a tormentor and - at times a bully - he may not have the most positive public perception but, as I caught up with him ahead of the 2014 Super League season, nothing could be further from the truth...
How are things different this year compared to when you first started your professional career in 2002?
I have a lot more ownership these days and I am now a leader in the group which I've had to adapt to over the years.
As you get older, you have to look after your body a lot more.
I find that I have more massages now than when my career began, which isn't such a bad thing.
You have to be more professional with yourself too - ice at the right times and recover properly.
As a robust forward, I've been quite lucky with injuries which may have prolonged my career too.
It's something I think about, I want to carry on for as long as possible so all of that is important if you want to that.
What is your first memory of playing Rugby League?
I remember my first session on the muddy field at Milford and the coach telling me to just grab the opposition and throw them to the floor - so I did - it got me excited and allowed me to get my aggression out.
It was always my mum who used to tell me to get out there.
On the cold, wintry days when you couldn't feel your hands, I wanted to stay at home but my mum wouldn't let me, she'd almost force me out of the door.
I had no choice but to play Rugby League in those early days.
When I first began playing I started in the back row because, believe it or not, I was actually pretty fast when I was younger.
Then, when you start taking it seriously you bulk up so the decision was made to move up to prop forward.
What would you have done if you hadn't played Rugby League?
I like football and I used to play that at school but I was too clumsy so Rugby League was probably the right road to take back then.
I love my boxing though - I watch that a lot - so I'd have probably got down to my local gym and give that a go.
As I do in Rugby League, I'm always looking for somewhere to channel my aggression so boxing would have been a great fit for me and it's another way of feeling part of a team or a community like at Leeds Rhinos.
What do you enjoy doing outside of rugby?
When it gets warm, I like to take my mind off things with a bit of golf.
When you lose, you can drive yourself crazy thinking about it so it's good to get out of the house and enjoy other things.
Living with Brett (Delaney) it keeps things interesting - he's just like me so we get along well and it helps us to think of things outside of rugby too.
What has made you stay at Leeds this long?
I've had my ups and downs since I signed for Leeds as a young boy and they really stood by me and remained loyal so I wanted to repay the favour as much as I could.
Sometimes it's not about money, it's about playing for your home town club and showing the respect you get from them.
I had an opportunity to move over to Australia and play but I've got kids over here so I didn't want to leave them either.
Leeds have been great for me and I'll be forever grateful so anything I can do to give something back to them I'll do it.
What is it about your game that you pride yourself most on?
It's always about getting one over your opposition so I take that mind-set whenever I take to the field.
While the wingers gain the accolades for crossing the line, your team-mates don't see it that way and they respect you for how you train and your fitness too.
I always train hard and everyone at Leeds does the same so it's a mutual respect across the whole squad.
You're often described as a pantomime villain, is that something you thrive upon?
People have said that to me over the years but I just get on with it.
The crowd will try and get on my back but I love it, it motivates me - I know I must be doing something good because they at least notice me out there.
Who are the players you looked up to when growing up?
I remember jumping over the walls as a kid at Headingley so that I could get into the South Stand and watch the Leeds pack.
Even then Adrian Morley was someone that I noticed every week.
He was a direct runner even as a teenager and I liked his aggression.
I like players who don't back down and just keep going and he was certainly one of those players.
Leeds seem to have always produced forwards with that mentality with Barrie Mac (McDermott) and Darren Fleary a couple I used to aspire to be like.
Who is the best player you have played alongside at Leeds Rhinos?
Jamie Peacock without a doubt.
He is the ultimate forward - the things he does in games, others can't do.
You look at his stats and people try to replicate it but they just can't.
Even at training he does extra fitness and really pushes himself, he's not just an inspiration to the young guys coming through but also people like me who want to improve their game.
He pushes me all the time when it should be the other way round because I'm younger but that's just the type of guy he is.
He is great to be around and I hope that he continues for a long time, I expect him to beat Steve Menzies record at least.
What regrets do you have in your rugby career?
I would have liked to have played for my country a bit more, I think I got too much too early when I first got picked for Great Britain in 2004.
If I had been older, I would have been wiser - I enjoyed the high life too much away from the game and that backfired.
On the positive side though, it meant that I could concentrate on playing for Leeds and being the best player I could for them.
What has been your biggest highlight playing for Leeds?
People are always surprised when I tell them I'm a Man United supporter, but playing at Old Trafford is like a dream come true.
You can't explain the atmosphere, it's the best you can ever have and winning my first major title there in 2004 was the pinnacle even so early on.
I'd grown up with most of that team and celebrating with them for three days afterwards was something I will never forget.
I've always thought that you can never be perfect so that motivates me to keep going and to keep making those finals and winning.
It might be a bit greedy but I want to be the best and I want to keep winning titles - once you get a taste for it, you want it all the time.
How have things changed working under Brian McDermott?
It's great - he's been there and done that and, as a forward himself, he is very easy to respect.
He's a fair coach - if you're not doing well he will tell you - and he pushes you all the way to get the best out of you.
How are you preparing for 2014 as a team?
We've recruited Tom Briscoe who has just returned from England duty and he's settling in well already.
Paul Aiton will be great for us too, as a Papua New Guinean he just loves getting stuck in so I'll enjoy playing with him in the middle this year.
We've got an aggressive pack this year and he'll fit in well which should then give our backs - including Briscoe - the space they need to finish it off.
We fell short on every trophy last year so there is a massive sense of underachievement on that front - we want to bring them back to Headingley.
We've got huge strength in depth this year so you can't get comfortable, you have to make sure you are at your best to get in the team.
Ryan Bailey's testimonial year begins when Leeds Rhinos take on London Broncos at Headingley on Friday 31st January