Super League: Huddersfield Giant Eorl Crabtree on Savage, silverware and shooting
Huddersfield Giants' Eorl Crabtree chats about almost giving up league, the hunt for silverware and shooting.
By Sian Parry
Last Updated: 13/02/14 12:13pm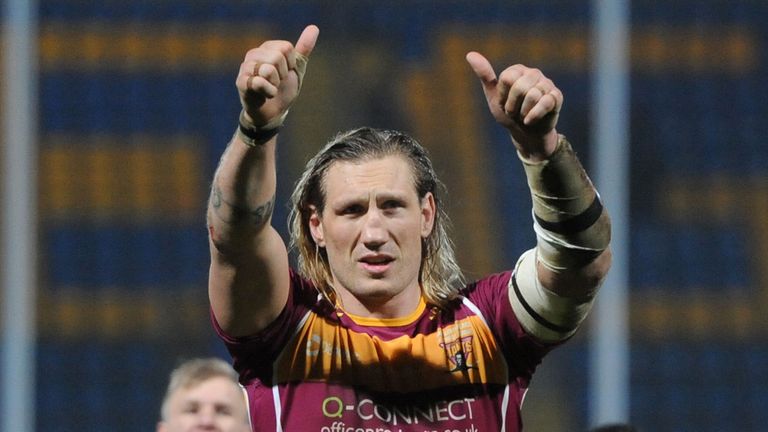 Over the last few years 'Big Eorl' has become a face of rugby league, even if that face is affectionately known as 'a fat Robbie Savage' by some, something he has embraced - Crabtree and football pundit Savage hung out at the BBC Sports Personality of the Year awards posing for numerous photos together last December.
But his successful media personality is backed-up with hardy steel on the pitch and the prop was an integral part of the Giants League Leaders Shield winning pack last season. He narrowly missed out on being a part of England's World Cup squad but, the 31-year-old's successful 14 year career almost never got off the mark in the early years under Aussie coach Tony Smith.
"I've always been passionate about the sport and never lost love with it as such," Crabtree told skysports.com
"I just didn't enjoy being a part of it anymore and unfortunately I was in a position where I was very young and not as good as I am now. I was not as fit, not as strong, not mentally as tough and I wasn't in the position where I could offer too much to the team.
"I was trying my hardest though and I just couldn't get that break and I got treated like I wasn't good enough. That's what did it for me and no matter what I did I just couldn't do it right and I decided I didn't like the sport anymore and what I'd got in to which was a massive shame.
"I was very, very close to giving it up and I think Huddersfield were going to get rid of me anyway but fortunately I managed to turn it around. That was purely down to just being given the opportunity to be nurtured in a different way.
"As I got older I've just got more comfortable within myself; fitter and stronger and that physical development is what got me through the other side.
"I enjoy what I do now and I think that makes a difference and I would never be treated in the same way again and I would never approach myself in the same way again because I've learnt a lot over the years, you've just got to find a way of dealing with it."
Positive thinking
The big target for the big man is to win a major piece of silverware with his hometown club this season. That drive is a well-timed and positive focus for Crabtree who is dealing with the breakdown of his marriage off the pitch, but there has been another sport that's been catching his eye, clay pigeon shooting...
"I've just got another gun so I've got three Brownings now which are lovely and I absolutely love it," he added.
"It's a great sport and something I'd always wanted to get in to, or at least try, on my first go I think got 12 out of 50 which is not brilliant but I got an addiction and I just wanted to get better and now I'm shooting mid-30's quite comfortably and I'm pushing now trying to break 40.
"I absolutely love it, it's a tough sport and it really mentally focusses you and I'm starting to let a lot from it as well.
"I've got a few flat caps, a big Barbour jacket and some Hunter wellies - all the gear and no idea.
"I'm one of these people who thinks about things a lot and no matter what is going on I find something really positive to think about whether it be shooting or something else, I firmly believe in doing things that make you feel happy and doing the right thing for you. So for me now, it's the start of the Super League season and I'm going to put everything back in to that.
"Being a sportsman you tend to be very selfish and by that I mean you need to be the best you can be and you have to wholly concentrate on yourself. Unfortunately that does affect things sometimes but sometimes the sacrifices you have to make are very great.
"Super League is back now and it's about ripping back in and trying to win some silverware. I've been at Huddersfield for 14 years and I don't want to retire without winning a big trophy and I'll give everything for that."
Local lads
The Giants opened their Super League season with a convincing 24-8 victory at Grand Final champions Wigan last Friday and Crabtree believes the likes of hat-trick scoring Jermain McGilvary and last season's Super League Man of Steel Danny Brough are stars in a well-oiled and talented team.
"I think Broughy has had to buy a new house for some new rooms to fill with all his trophies. It's ridiculous he's got all the accolades, but do you know what, he's so level headed and he's just a lad from Dewsbury and he's fantastic for us, whether he'd fit in to every other team I'm not so sure.
"He would probably admit himself that he is only as good as he is is off the back of a pretty decent team!
"Last year we were very consistent and the forward pack created a bit of space for him and then he can just do what the heck he wants - that's fantastic for us. We're all instrumental in what we do and there's no one that really is just out there on their own, we all work together really well as team.
"We've got some great stars in our side, I think Leroy Cudjoe is looking better and better game by game and Jermain McGilvary who got the hat-trick against Wigan on the opening night - these are just local lads who have come through the ranks and that's what makes me proud as a Huddersfield lad. I was once the only Huddersfield player and now we've got so many of them and I think it's fantastic."
Find out if Eorl and the rest of the Huddersfield Giants can win some silver ware in 2014. Click here for our live Super League games