Fraser Dainton reports from a Steve Prescott-inspired walk from Lands End to John O'Groats
Fraser Dainton reports from Le Jog for Precky as league stars raise funds for the Steve Prescott Foundation.
Last Updated: 09/05/14 10:29pm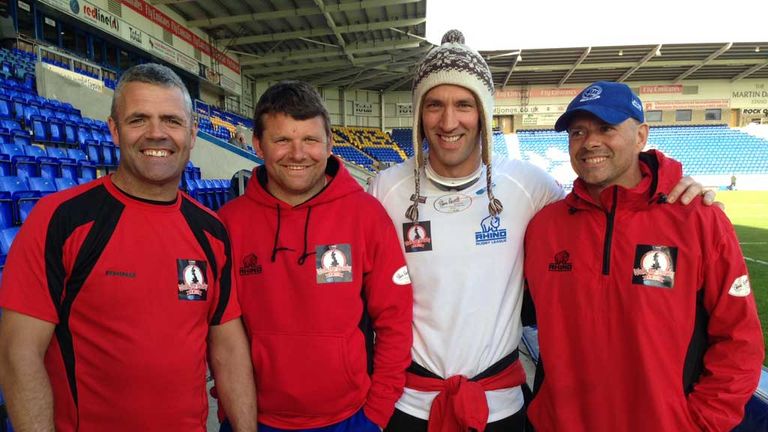 The idea is nothing short of crazy. Walking 900 miles from Lands End to John O'Groats - in just twelve days.
But doing the impossible was what Steve Prescott made his speciality and, six months after he passed away, his legacy continues with another trademark physical challenge.
League stars Paul Sculthorpe, Tommy Martyn, Lee Briers and Jimmy Gittins have been joined by former Premier League football referee Mark Halsey on what's understatedly called "Le Jog for Precky".
Every day is eight hours of walking, followed by a rub down and re-fuelling, two hours sleep, an hour's preparation, then it all starts again.
As they arrive at Warrington's Halliwell Jones Stadium, Sculthorpe - a former Man of Steel - tells me: "It's been a lot tougher than I thought. The first day was a shock to the system - 29 miles straight off, but it's been fantastic, and we've been looked after so well. My legs feel fine, but my toes are where it's got me, (six blisters so far) and my feet have swollen."
For Briers, it's been harder. He says: "I can't comprehend how tough walking can be. After two days, I hit the wall. I was hallucinating, being sick. The camaraderie is what's getting us through."
Sculthorpe is used to this kind of thing. He was always alongside his former team mate whenever a challenge needed tackling.
After retiring from the game due to injury, Steve Prescott was just 32 when he was diagnosed with a rare form of stomach cancer. He refused to be beaten. A League Championship and Challenge Cup winner with St Helens, he turned to the Rugby League community for help - it came in abundance.
Defied the odds
Given just six months to live, he defied the odds by spending the next seven years raising funds for Christie's Hospital and the RFL benevolent fund.
He ran marathons, cycled hundreds of miles, swam across the Mersey, rowed across the channel from France and kayaked up the Manchester Ship Canal - all while still being treated for the disease, and often suffering immense pain. Nearly half a million pounds came in.
Briers sums up the feeling among the walkers, saying: "I couldn't do this without thinking of Steve. Every time we're feeling sore, we just think that he wouldn't have complained, he would have hit it head on. He's an inspiration to each and every one of us."
In November last year, Prescott underwent pioneering surgery, replacing several major organs, ridding him of the cancer. Although the operation was a success, he sadly died from graft-versus-host disease.
The shock felt throughout the game was profound, culminating in the RFL renaming their highest accolade, "The Steve Prescott Man of Steel Award."
Sculthorpe is determined to make sure the good work continues : "Ever since we lost Steve, the Foundation has gone through the roof. Right from the start in Cornwall, everyone who's come to meet us knows about it. This is going to take things to another level."
They are almost half way, and aching like hell - but as Steve himself said: "What the mind believes, the body achieves."
You can donate to the Steve Prescott foundation by going to the webpage :
https://www.justgiving.com/lejog4precky