Super League: Competition to return to a 12-club league from 2015 season
The Super League will change from a 14-team competition to a 12-team one from 2015.
Last Updated: 11/07/13 12:59pm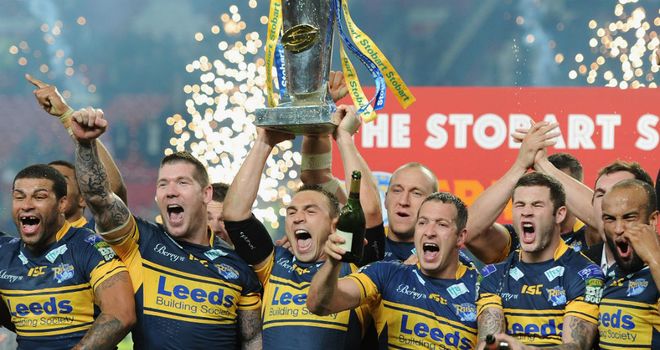 Reorganisation of the domestic game took another step forward when the 14 Super League clubs finally ruled out a proposal to go down to 10 at their annual meeting in Bradford.
It is thought only four clubs were in favour of keeping the option alive, with Huddersfield the only one to push strongly for it.
The clubs agreed last month to cut their number from 14 and ditch the current licensing system in favour of a restoration of regular promotion and relegation.
However, just two proposals remain up for debate after the meeting with the first being for two divisions of 12 with a straightforward system of promotion and relegation between the two.
The alternative is the option being pushed by the Rugby Football League which involves both Super League and a 12-team Championship being split after 23 rounds into three qualifying play-off groups of eight clubs.
Super League first rose from 12 clubs to 14, subject to a licensing system, from 2009 with 14 clubs granted three-year licences (2009 to 2011 and 2012-14), during which time they could not be relegated.
The clubs have asked the RFL executive to produce more detail about the latter option, which was initially rejected overwhelmingly by the players but since amended.
The league reorganisation is designed to halt falling venue and declining crowds and address growing concern over the number of meaningless matches.
Relegated
The decision means that two clubs will be relegated at the end of next season and the RFL have confirmed that outpost clubs London Broncos and Catalan Dragons will no longer be exempt.
Nigel Wood, who is chief executive of both the RFL and Super League, said: "The clubs engaged in a robust and frank debate about the future of their competition and gave their full support to the RFL executive in our search for the most compelling league structure.
"It is apparent that there is a strong and widespread desire to deliver a really exciting league season that provides well-run clubs at all levels of the game with opportunities to flourish, succeed and make progress.
"Our task now is to drill down into the details of a range of issues such as minimum standards, financial distributions and the various mechanics around promotion and relegation."
The next step is for the Championship clubs to discuss the options at their meeting next Wednesday before the Super League clubs reconvene, while an extraordinary general meeting is expected to be called in August to make a final decision.
St Helens' Jon Wilkin, chairman of the Super League Players' Association, saw the news as a positive.
He explained: "Some change is required in the competition structure. When you've got a relatively restricted player pool you have to sort a lot of players from overseas.
"We were probably overstretching our resources and this is an opportunity to make the competition more intense, commercially viable and sustainable - and that's what's probably in the players' best interests in the long term.
"Promotion and relegation is something associated with British sport. Some clubs have a rich history and have been an integral part of the game so it's good to have access back to the top flight.
"It's a positive step for the game, if tied up with a strong commercial plan."