Super League: Salford City Reds owner Marwan Koukash wants higher salary cap
Salford owner Marwan Koukash has urged the RFL to raise the salary cap for Super League clubs.
Last Updated: 05/06/13 10:34am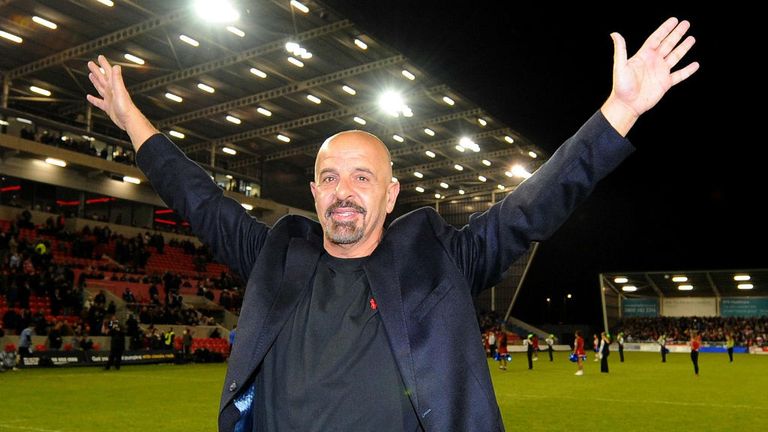 Koukash is determined to attract a number of high-profile players to the Reds, although a big-money move for England full-back Sam Tomkins has been turned down by Wigan.
But the millionaire racehorse owner fears his ambitions for the club could be restricted by the cap on player wages, and he pointed to the disparities at the recent World Club Challenge to enhance his claims.
He said: "How could the World Club Challenge be a fair contest when you've got Melbourne operating with a £3.5m cap and you've got Leeds operating on a £1.8m cap?
"That's not fair. If we are serious about raising the profile of rugby league, which is massively undermarketed, then somebody up there who runs the sport needs to start considering creating a level playing field.
"We need to start looking at ways we can raise the salary cap. If I want to recruit the best player in rugby league, I should be allowed to do so and clubs should be allowed to recruit one or two players - special players - from outside the cap.
Losing players
"That way you could reverse the process of losing players to rugby union or even recruit the better players from rugby union.
"It's not just Salford that would be able to do it, there's a number of other teams that could do it and all of a sudden you start putting bums on seats and you raise the profile of the game."
But a spokesman for the RFL defended the current cap, and insisted it was in place to help clubs control their finances.
The spokesman said: "Salary-cap limits are agreed upon by the clubs and have played an important role in helping clubs manage their resources by discouraging overspending and creating a more stable environment for club development."