Monaghans relishing cup final
Joel Monaghan admits he and his brother Michael will remember how far they have come before playing in the Challenge Cup final for Warrington.
Last Updated: 23/08/12 4:38pm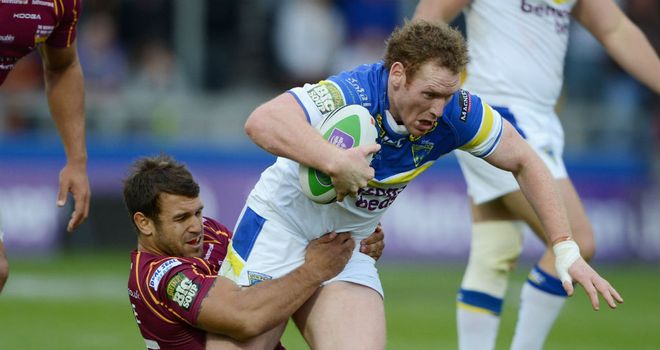 Joel Monaghan admits he and his brother Michael will remember how far they have come before playing in the Challenge Cup final for Warrington.
Joel, 30, and his older brother Michael, 32, will stand side by side for Warrington at Wembley as they go in search of a third final win in four years.
Michael played in both of them in 2009 and 2010, winning the Lance Todd trophy for his performance in the first against Huddersfield, but for Joel, stepping out at the national stadium will be a first in his career.
He only moved to Warrington at the start of last season and, despite having played with his brother for Canberra, this will be the biggest stage they have shared.
"There will be an element of us looking at each other beforehand and remembering where we have come from and how we started out in the sport," he said.
"We spoke about it after we beat Huddersfield in the semi-finals and it seems to have taken an age to have come around.
Special
"We learned the game together as kids and to be here now, as brothers, is something very special."
Joel says he and Michael are contrasting figures, the winger typically laid back and his hardworking hooker of a brother an intense worrier.
He claims they never fight, though, which is something typified by Michael's role in his brother's moving to England after his departure from Canberra following a high-profile off-the-field incident.
"He was on to me straight away, telling me to come to Warrington and to be part of what was happening here," Joel said.
"He had played in two finals here already, and my parents had come over to see him and saw how great it was. Mick was telling me to come over and get the chance to play at Wembley with him.
"I had seen him kill it on television and was excited by being a part of it. My dad is coming over for the game on Saturday and it will be special for him to see his sons playing at Wembley together."
Moved on
A week ago Warrington would have been the overwhelming tip for the crown having recorded impressive league wins over St Helens and Wigan, their two biggest rivals for the title in terms of table position.
A 50-point drubbing by London on Friday has changed that, though, albeit they had made seven changes, with Leeds desperate to avoid losing three cup finals in a row.
However, according to Monaghan, the debris from that defeat has already been cleaned up and Warrington are ready to right the wrongs.
"We moved on from that pretty quickly," he said.
"We weren't good enough in London, but in a way, it helped us. We got to travel down there, as we will this weekend, and we got a feel for the travel down there and the staying over and such.
"We can hopefully learn from that and prepare for this weekend's game better. A lot of what happened last weekend was disappointing, but there are plenty of things we can put right and get better against Leeds."