Sinfield urges fast start
Kevin Sinfield says Leeds Rhinos must start fast when they face the Warrington Wolves in the play-offs on Friday night.
Last Updated: 30/09/11 6:25pm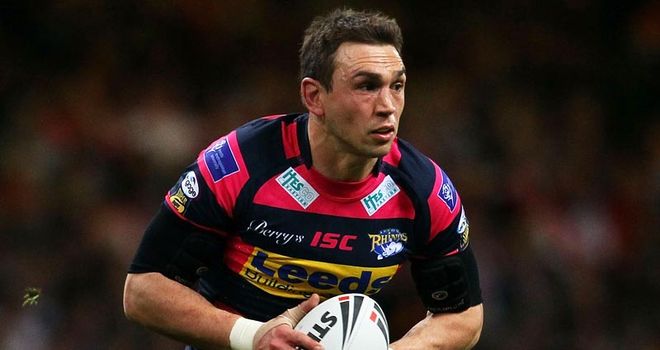 Kevin Sinfield says Leeds Rhinos must start fast when they face the Warrington Wolves in Friday night's Super League qualifying semi-final.
Tony Smith's men have scored 82 points in two meetings with Leeds since blitzing them 30-6 at Wembley last year and Sinfield admits his side will need to be wary of Warrington's traditional blistering opening.
"We need to start well," Sinfield said.
"I think we've seen so far in the play-offs every team that has gone in front has stayed in front. We can come from a couple of scores down but we don't want to be in that position. We know they come out of the blocks really well, they are really aggressive at the start.
Shackles are off
"But we've nothing to lose. All the pressure is on Warrington. For us the shackles are off so let's go there and ask some questions.
"If we play five drives and a kick, they'll put 60 points on us, we'll get the medicine that a lot of other teams have got this year, a good hiding.
"We know what we have to do to win. We need to go there and play."
Leeds are the 12/1 outsiders to regain the title they won for the third year in a row in 2009 but Sinfield believes they are hitting form at the right time with four wins in a row since losing to Wigan in the Challenge Cup final.
"We haven't beaten Saints or Wigan this year yet either and up to a fortnight ago we hadn't beaten Huddersfield so the problem area for us this year has been the teams above us," he said.
"We managed to do that a few weeks ago and again last weekend. Our form is good, our squad is healthy and we've got nothing to fear.
"Nobody expects us to get to the Grand Final but this team thrives on adversity and on people writing us off. Hopefully we can prove them wrong again."
Warrington boss Smith, who guided Leeds to their Old Trafford triumph of 2007, is wary of his old club's recent form and is disregarding all previous results between the two.
"You can't take what happened earlier in the season too much for granted or even results in recent times as it's about performing on the day," he said.
"The Rhinos have had some good results lately but so have we, we've been in some pretty good form.
"We understand this is a new thing for us to be playing this far into the season but it's great to be coaching this group of players at the moment as they are pretty quick learners and are very committed to one another."