Lunt grateful for final chance
Shaun Lunt is a relieved man that he is not having to sit out Saturday's Challenge Cup final at Wembley.
Last Updated: 22/08/12 7:56am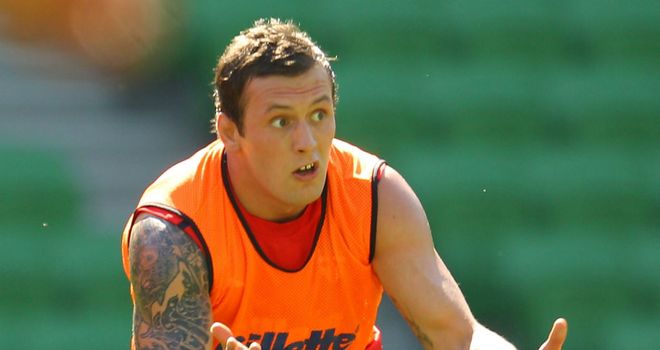 Shaun Lunt is a relieved man that he is not having to sit out Saturday's Challenge Cup final at Wembley.
Lunt left Huddersfield to move on loan to Leeds in April and knew he would have been prevented from playing against his parent club in the final has they beaten Warrington in the semi-finals.
However, the Wolves ran out easy winners and, instead of being a spectator at Wembley on Saturday, Lunt will be making his 18th appearance for the Rhinos in his second Cup final appearance in four years.
"I was very relieved - I'm not going to lie to you," said the 25-year-old hooker, who was in the Huddersfield team that lost to Warrington at Wembley in 2009.
Vigil
"Obviously this is one of the biggest games you'll ever play in your career so for me to get the chance is fantastic."
Lunt had helped Leeds pull off a 39-28 win over Wigan 24 hours earlier but saw little of the second semi-final after holding a bedside vigil.
He said: "I was actually at the hospital bedside of my auntie, who passed away a couple of days later.
"The game was on in the room and we were watching it but I wasn't really taking much notice.
"I was pleased they got beat but my thoughts were with my auntie so it was a bit of a mixed bag of emotions really."
Lunt has experienced mixed fortunes on the rugby field as well this year.
The form that earned him an England call-up for the 2010 Four Nations Series in Australia and New Zealand deserted him to such an extent that he found himself third-choice hooker at the Giants and felt he had little option but to seek a loan move.
"Luke Robinson and Tommy Lee were playing better than me at the time," he said. "It was tough but there were no hard feelings.
"You don't really get the chance to move on loan to a club that's just as good or even better than one you're playing at and, for me to come to Leeds, I was pinching myself.
"I thought, 'I'm not getting in at Huddersfield so why do they want me?' but I've never looked back.
Cracking
"Jimmy (Lowes) and Brian (McDermott) have been absolutely fantastic with me. They've got the best out of me."
Lunt still has three years left on his contract with Huddersfield but has put talks about his future on hold.
"I've told my manager I want to get this game out of the way and start talking next week," he said.
"Hopefully something can be sorted in the near future, for my sake and my family's sake, because I want to get cracking and settle down."
Lunt has started the Rhinos' last two matches but may have to be content with a place on the bench at Wembley, with Rob Burrow expected to return from a calf injury.