Super League: Leeds' Ryan Hall won't rule out a future move to the NRL
Ryan Hall has refused to rule out a move to the NRL, but insists his immediate future is very much with Leeds.
By SkySportsPeo
Last Updated: 06/06/13 10:20pm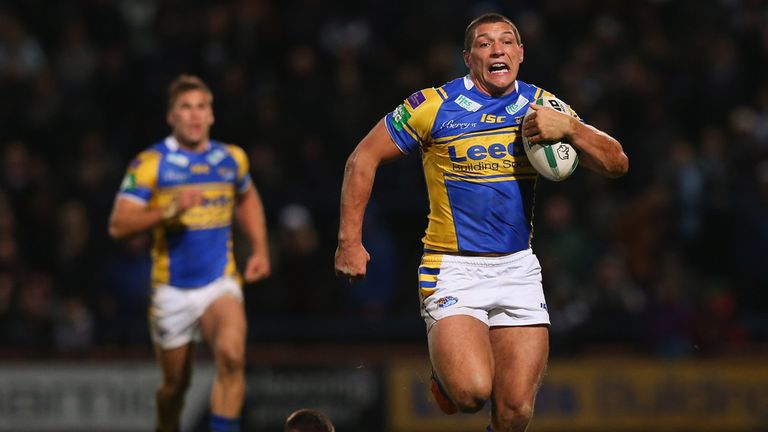 The 25-year-old has developed into one of the best wingers Super League since making his debut in the 2007 season - scoring regularly for the West Yorkshire club.
The England international did not feature in Leeds' 2007 Grand Final triumph over St Helens at Old Trafford, however, the Rothwell-born flyer has played in part in their four triumphs since.
Hall signed a new five-year contract with the Rhinos in January 2012 and his short-term goal remains to be successful at Wembley in the Challenge Cup. Leeds have lost the last three finals.
A number of Super League stars will be joining the NRL next season with lucrative contracts on offer and Hall has refused to rule out the possibility of testing himself against the southern hemisphere's best on a weekly basis.
"I'm tied down with my deal at Leeds at the moment," he told Sky Sports ahead of Friday's Super League home derby against the Castleford Tigers.
"I've got three more years after this one so it's a little bit too far in the future to think about. It's a quality competition, and there are things over there that benefit people financially.
Trophies
"But I'd like to win a Challenge Cup, I haven't won one of those yet. It'd be nice to get the English medals.
"It (a possible move) is not going to be next year or anything like that, but never say never."
Leeds enter Friday's home game against the Tigers on the back of four straight defeats in all competitions, however, Hall insists Brian McDermott's men are not panicking.
"We've been through up and downs in the last couple of years, and this is just one of those times where we've hit a bit of a low," he continued.
"We've gone through it before and rectified it, so we know how to come out smiling at the other side. I'm sure those systems are being deployed at the moment.
"It's a credit to the club how people are reacting to this. Some other teams might go season-on-season losing four in a row and it's not mentioned, but when it happens to Leeds it's a crisis. It's a credit, the standards that we're setting for each other."
Twice in the last two seasons Leeds have finished fifth in the table only to go on and pip the more consistent teams during the season to Super League glory in the Grand Final.
Ambition
The Rhinos have dropped to sixth after league defeats to St Helens, Wigan Warriors and Hull FC, although Hall insists Leeds have yet to be on the end of a beating like last season's 50-8 loss to Wigan on home soil.
"Yes, but we haven't been beaten like that this year. We didn't give ourselves a very good account last week at Hull, but we had every chance of winning against Wigan and it's unfortunate we didn't.
"I think we're in a slightly different place to where we were last year, but we've set high standards for ourselves and we'll hopefully get back on the horse this week."
Leeds' defeat at the KC Stadium last Friday means they have slipped 10 points behind leaders Wigan with two games in hand and Hall believes the League Leaders' Shield is not beyond their reach.
"We aim to win it, and there's every possibility of doing that. I know Wigan are a little bit ahead of us at the moment, but they're a good side and deserve to be up there.
"They are still human, so we get to go at them again and we'll do our best to beat them, and try to catch them up on points."
Leeds Rhinos use Multipower Sportsfood for sports nutrition tailored to your individual needs, visit www.multipower.com