Super League: Leeds Rhinos young guns impress Shaun McRae against Widnes
Brian McDermott expertly integrated young guns to cover Leeds' absentees, says Shaun McRae.
Last Updated: 18/06/13 10:43am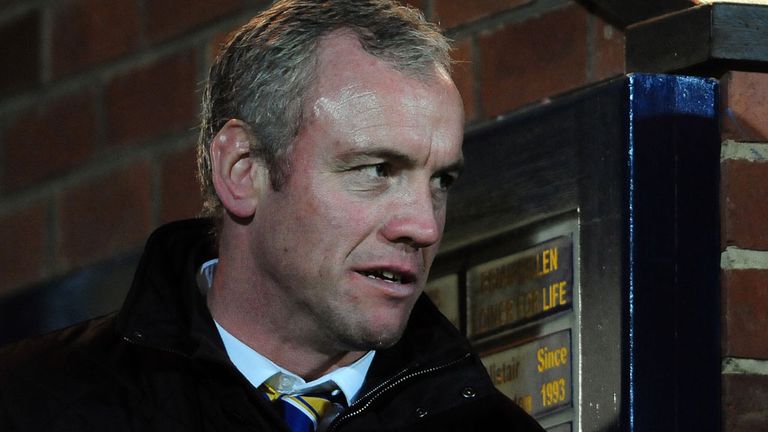 Following England's clash with the Exiles on Friday night, Leeds were without nine regulars for their Headingley meeting with the Vikings, including captain Kevin Sinfield, but still ran in seven tries against a Widnes side unable to take advantage of the hosts' absentees.
The 38-28 win moves Leeds into fourth spot in Super League and Hull FC Director of Rugby McRae told Sky Sports the Rhinos have a bright future, after seeing teenager Liam Sutcliffe score the game-clinching try five minutes from time and a number of other fledglings help the hosts to victory.
"Wigan and Leeds have wonderful academy set-ups and excellent development structure through their club," he said.
"And when you combine some of those younger players with some of the very gifted players that were still playing tonight for Leeds then they are a difficult side to beat.
"They're confident, compact and the senior players led well; Jamie Peacock was outstanding, Rob Burrow was very good, as were Paul McShane and Jamie Jones-Buchanan.
"Some of the younger guys did some terrific things as well; they made some rookie errors, too, but you're going to get that. McDermott would have known that when they practiced all week, so he built in a buffer zone for some errors in the 80 minutes.
"Young players are going to come up with over enthusiastic plays defensively and not get it right every time, but, with all the changes McDermott had to make, he got it right.
"They'll be happy to get away with the win but at the same time he knows he's going to have to improve with that young group of players."
Lesson
Stevo was equally impressed with the efforts of the young Rhinos and said other clubs should look at the model in place at Leeds and Wigan, where talented academy starlets are nurtured into players capable of performing in the first team.
However, the Sky Sports pundit also highlighted the importance of experience in their line-up.
"This is a lesson to other clubs," he said. "Wigan and Leeds concentrate on bringing the youngsters through and they're getting their just rewards. Other clubs take note: that is your future, your success.
"However, the most pleasing thing for McDermott was that McShane, in only his second start this season, and Rob Burrow, not only with ball in hand but with their kicking game, were absolutely superb."
Whilst McRae was keen to emphasise the quality of the Leeds line-up - despite the missing regulars - he countered Widnes should have performed better, given they also lost to a Wigan side missing nine first-team players last time out.
"Widnes will be disappointed in the way they played," he said. "They made too many errors, turned over cheap ball and it's very hard to defend your line when you're constantly defending it.
"Eventually that cracks; you have to play down the other end of the field. But Widnes will learn from that."