Super League: Brian McDermott looking for more from Leeds Rhinos
Brian McDermott is not resting on his laurels, insisting there is more to come from Super League leaders Leeds Rhinos.
Last Updated: 20/05/14 11:27am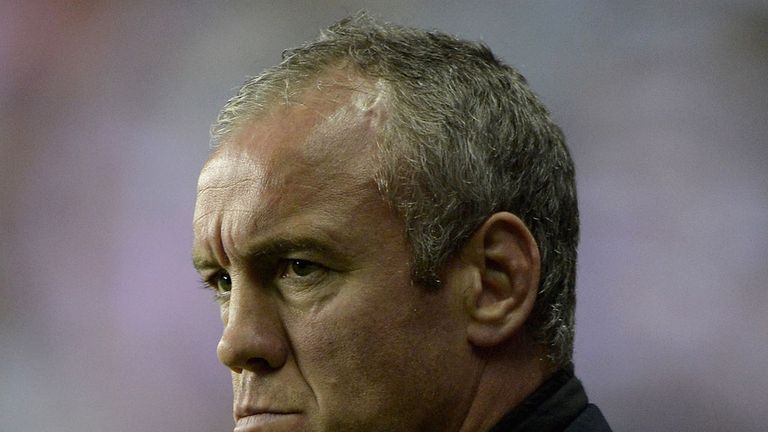 The Rhinos sit one point ahead of St Helens after 13 games, despite suffering a 18-14 Magic Weekend loss to Wigan Warriors in the finale on Saturday.
While the Rhinos boast the best defence in the league - conceding just 126 points so far - McDermott believes there is still plenty of improvement to come from his title contenders.
He told the Yorkshire Evening Post: "We aren't content where we are, but if you asked me if we wanted to be on top of the ladder after round 13, I'd say yes, I will take that.
"But I will qualify that. If we had to go into the play-offs now - or a Challenge Cup final or semi-final - I don't think we are where we need to be.
"We have got a little while yet to keep honing what we have got to do and keep sharpening our tools.
"There's clearly some things that are working well for us. Our challenge is to keep those traits within us."
Consistency
Asked if there is more to come, McDermott added: "Absolutely.
"I think consistency throughout a game and tenacity throughout a game is something we have probably got to show more of.
"We have taken teams on and scored some fantastic tries and got the game in the bag - for some of them - early.
"But even in the St Helens Challenge Cup game there were some moments when they broke us down.
"In the Wigan game at our place we had some moments when they broke us down and we lacked concentration.
"Against Castleford in the early stages we were rattled and then again last weekend.
"You look at recent games and while some of those were big wins along the road - significant wins - our performance wasn't where it needed to be.
"That is something we - as coaches and players - are focusing on."