Barrie McDermott reviews incidents involving Brent Webb, Justin Carney and more on Super League Week Three
Barrie McDermott gave Sky Sports News his verdict on the big talking points from Round 3 of Super League, including sin bins for Brent Webb and Justin Carney and lots to enjoy if you're a Huddersfield supporter
Last Updated: 18/02/13 11:43am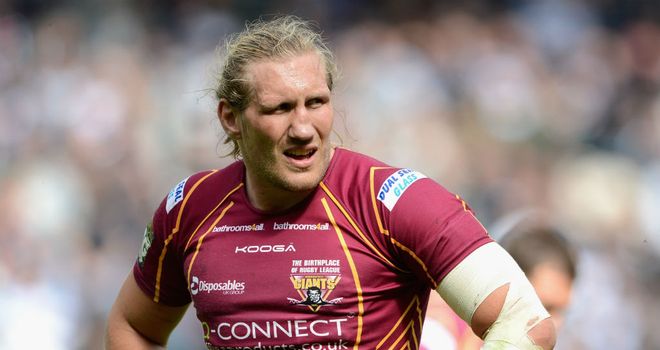 On Friday night we saw so much trouble and so much frustration amongst the players that it boiled over into a good old-fashioned bit of biff. Webb was the instigator and Catalans, unfortunately, came to get under the skin of Warrington, who played Wigan the week before and were roughed up a little bit. Webb was given his marching orders just before half-time and at that point I thought the Wolves were showing a lot of control and discipline, but unfortunately it didn't last too long. You have to feel sorry for Webb because he picked the wrong bloke, Benny Westwood, who is one of the toughest blokes in our game. He swatted him away and gave him the old one-two. Westwood is an incredible player for his work rate, his discipline and the way he plays the game is commendable. Webb, unfortunately, picked the wrong bloke.
Barrie on Hull FC's late comeback to draw with St Helens
It's a bit clunky from the Saints side. They only just got over Widnes last weekend at the Stobart Stadium, but they seemed to get better as the game went on. Right at the start against Hull they let in the first try and from that point on they were there or thereabouts. Jordan Turner scored against his old club and from 52 minutes they were 22-12 up and it looked like they'd got enough. But Richard Whiting got a try that levelled and Daniel Holdsworth had to kick a conversion to win the match, but unfortunately for Hull FC he didn't manage to get the ball over the H, which would have given them a well-deserved victory. I still think they'll see it as a point gained.
Barrie on Huddersfield's key men as they extended their winning run against Wigan
There's a 100% record for the Huddersfield Giants. They've got the best attack and the best defence and have restricted their opponents in three matches to just 20 points. Everything is looking good for them. They didn't get off to the perfect start and were 10-0 down in 19 minutes, with Liam Farrell having a big game for Wigan Warriors, but the introduction of big Eorl Crabtree changed the game. He's a big player that wears his heart on his sleeve and really does get stuck in. The highlight of the game for me was Brett Ferres, who ended up with 196 metres at the end of the game and he scored in his third consecutive game. He's in a good vain of form.
Barrie on Justin Carney's sin-binning in Castleford's defeat to Bradford
There's two different versions of indiscipline that we've seen. We saw the physical side of what's happening and we've seen players trying to slow the play-the-balls down so they can get their side back onside. Carney made a try-saving tackle, but tried to buy an extra half-second and was shown the yellow card. I would say it's a professional foul and obviously the referee agreed. Carney was trying to do the best by his team, but was caught between a rock and a hard place. Does he let the Bradford player get up and play the ball and potentially let a try in or does he give away the penalty? It was a professional foul and he went in the bin. Jamie Ellis shortly followed him and the scoreline ran away with Bradford in the end.
Barrie on the impressive fitness of Hull KR in their win over Widnes
They were a very athletic winning team with lots of tries from distance. Omari Caro, the former London Broncos player, was particularly impressive in this game. We always talk about Michael Dobson's kicking game and we always talk about what an influence he can have on a game, but Hull KR needed to find some form and confidence. Kris Welham and Craig Hall are athletic, free and fast-flowing rugby league players, the type of multi-functional, multi-skilled rugby league players these days.
Barrie on a promising start for Wakefield, who beat London Broncos 28-0
The difference is Tim Smith, it's quite simple. His distribution and the way he feeds and threads his players through the gaps and spaces and guides his team around the pitch is remarkable. Wakefield look ok and look good value for the two wins they've got. They haven't got an incredible record at the capital; this was only their third win in 10 league and cup visits down there. I think they'll get on the bus home a very pleased team.