Super League: Castleford Tigers unveil fresh plans for new stadium
Castleford Tigers have unveiled fresh plans for a new stadium.
Last Updated: 13/03/14 5:17pm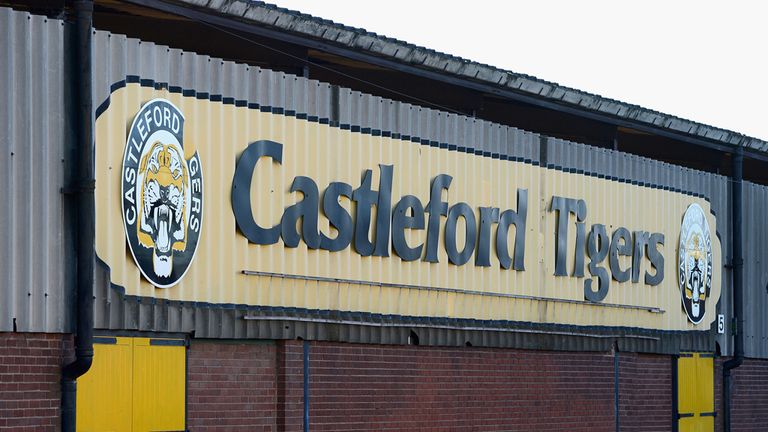 The Super League club wants to build a 10,000-capacity stadium as part of a £135m retail development of a site at Glasshoughton, adjacent to junction 32 of the M62
The club had previously announced a move to a new stadium, however, those plans came to nothing because of funding issues arising from the sale of the current ground at Wheldon Road, now known as the Mend-a-Hose Jungle.
This time the club say the project will be funded entirely by property developers who have opened talks with both Wakefield Council and the highways authority.
Lateral Property Group say the development will also feature a 50-acre country park and that as many as 2,000 jobs would be created.
The purpose-built stadium would be designed to meet Super League requirements, with a mixture of both seating and standing terraces, and it is hoped that work will begin during 2015 with a view to being ready for the 2017 season.
Exciting opportunity
Castleford chairman Jack Fulton said: "Clearly this is a very exciting opportunity for Castleford Tigers to finally get a home fit for the 21st century.
"A new stadium will provide the foundations of a bright new future for the club and much-needed facilities for the wider Castleford community.
"Where previously other plans have not materialised, Castleford Tigers are confident that Lateral Property Group can deliver this new stadium for the club."
The development is on similar lines to the one proposed for Super League neighbours Wakefield, just two junctions further along the M62.
Philip Lunn, managing director of Lateral Property Group, said: "In addition to delivering this new stadium for Castleford Tigers, the enabling retail development could bring a massive boost to the local economy.
"We have had very positive conversations with some of the biggest names in UK retail and we expect to be able to make further announcements soon."
Stevo discusses Sam Tomkins' NRL debut and whether the salary cap should be abolished. Shaun Wane talks about Wigan's recent poor and Rob Burrow picks out his three stand-out players from Super League this week