League of our own
Angela Powers celebrates the significant and empowering role that women play in rugby league.
Last Updated: 08/03/12 8:57am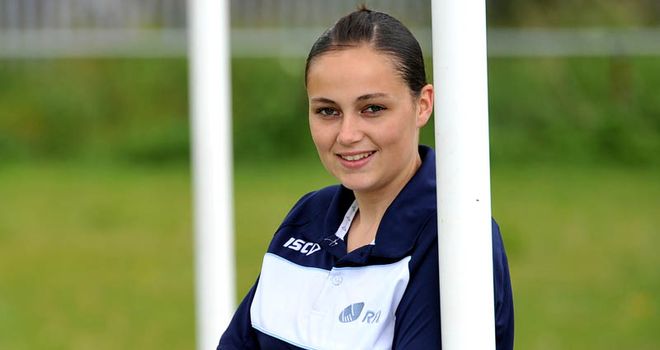 There's something rather primeval about the game of rugby league.
Aside from the niceties of following the rules and regulations, and behaving in a sportsmanlike manner, it's rough, mean, painfully physically and downright dirty, especially at this time of year.
It is two big gangs of big men, running at full pelt at each other with the instinctive aim of being the winner. Back in the days of dinosaurs, being a winner meant survival. Not much has changed.
Getting to the 'goal-line' first meant that Neanderthal man got to bring home woolly mammoth for tea, while the child-rearers would be doing their protective duties.
In the modern sporting arena, the wife and kids are more likely to be watching the attrition first hand and being there to roar, 'go on, rip his head off'. It's what Sunday afternoons were made for.
Women have always had a presence in the world of rugby league. While the terraces of football retain their strong masculine and often frightening atmosphere, in league you are as likely to sit next to a blue-rinsed old granny as you are the traditional male sports spectator. And that lady will probably have a couple of grandkids with her.
There aren't any exact official figures available for the number of women who attend games compared to men but Bradford Bulls latest figures show that 49 per cent - yes you read that right - 49 per cent of their audience at live games is made up of women and children. The average around the Super League clubs is probably a little less, but even 40 per cent is a sizeable chunk of audience.
Support
I know that I, as a reporter in a female-friendly sport, rarely have to look far to see a woman pulling the rugby-league strings, or providing rock solid support in some form or other.
From Margaret Brierley, who has been making tea and sandwiches for players and dignitaries on match days at Dewsbury for 20 years, to June Kennedy, chief executive at Workington Town who was added to the governing body's Roll of Honour for her services to the game.
From Sarah Bennison blazing a trail as a referee with stoical northern no-nonsense, to Emma Edwards, stats and performance queen at the right hand of top-of-the-league-club coach Tony Smith at Warrington.
I'm naming names here but that doesn't make them one offs. There's never been much need to point them out as female go-getters or brand them as the epitome of girl power. They do their job because they want to. But there is another reason why they are here.
Empowered
Rugby League is a game played primarily by men, and it has been governed for more than 100 years almost exclusively by men. But they have (more than any other male-dominated sport I can think of) encouraged the participation of women and more importantly, empowered them by hiring them to do the jobs.
But there is a quid pro quo. If some 'Close Encounters' type invasion happened and teleported away, Star-Trek-style, all the women who play, watch, work and volunteer in rugby league there'd be a heck of a gap, not least on the terraces. And in income terms alone that would spell disaster for the game. So it pays to keep them happy (baby-changing facilities as standard at every single ground isn't too much to ask is it? I'll keep the campaign going.)
International Women's day should - and does - put the spotlight on some of the great work being done around the world by strong and talented women. It's a time for us to reflect on the strides made on our behalf and spare a thought (and hopefully something a little more useful) for all those living in repression and fear just because of their gender. It puts into perspective the trivial trials and tribulations of dealing with the odd misogynist who thinks that women and sport don't mix.
I am proud to earn a living working in a sport that belongs as much to the women who work and play within it, as it does the men who put their bodies on the line every weekend in the name of entertainment.