South Africa beat England 16-15 in a thriller at Twickenham
South Africa maintained their recent dominance over England as they held on for a 16-15 victory at Twickenham.
Last Updated: 25/11/12 12:10pm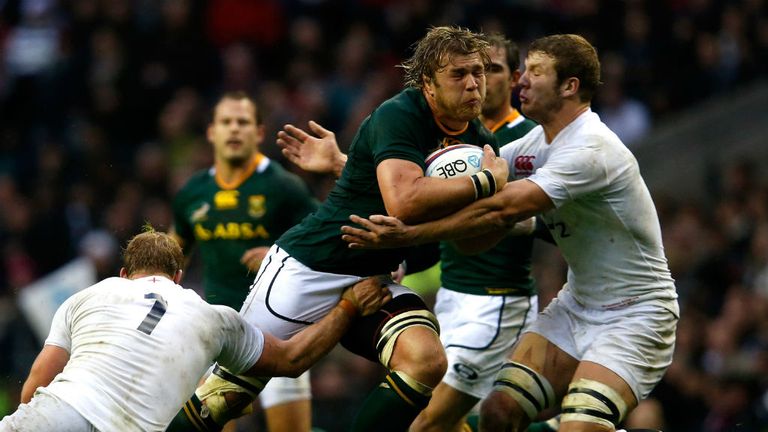 The Springboks have now beaten England three times this year with one game drawn, although this was a match England should have won.
The game's only try from Willem Alberts came from an outrageous piece of luck, while captain Chris Robshaw's decision to kick a penalty with less than 120 seconds on the clock and England four points adrift was simply bizarre.
England had the better of the opening half but just as in losing to Australia last week, their handling and decision-making let them down despite plenty of attacking possession and territory.
A move involving Joe Launchbury, Alex Goode and Chris Aston was the pick of the first-half action, but Toby Flood's kick into the corner went dead.
As it was three penalties from Patrick Lambie against two from Flood gave the visitors the edge at the break.
The game's key moment arrived two minutes into the second half as South Africa turned down a kick at the posts and put a penalty into the corner. The ball was dropped and Ben Youngs hacked forward, only for the ball to hit JP Pietersen's shin and ricochet towards the line.
England would still have survived but the ball hit Tom Wood, which put Alberts onside, who only had to catch it and touch down. Lambie converted and England were chasing the game.
They made a decent fist of it, with two bursts from midfield from Manu Tuilagi almost setting up tries, only for a combination of slow ball, poor passing and sloppy handling to keep the Boks' line intact.
With eight minutes to go and South Africa defending desperately and increasingly illegally, Farrell knocked over a penalty - clearly the right decision.
But six minutes later South Africa collapsed a scrum in their own 22. The correct decision had to be to put the ball in the corner and attempt to score the match-winning try.
But Robshaw - perhaps dwelling on the criticism he received for not kicking goals against the Wallabies - handed Farrell the ball. Three points were not enough and South Africa closed out the remaining 60 seconds on the clock. It was a tame and frustrating ending to a pulsating match.