Ronnie O'Sullivan hints at Barry Hearn-inspired retirement U-turn
Ronnie O'Sullivan admits Barry Hearn may be able to persuade him to continue playing snooker rather than quitting.
Last Updated: 03/05/13 8:43pm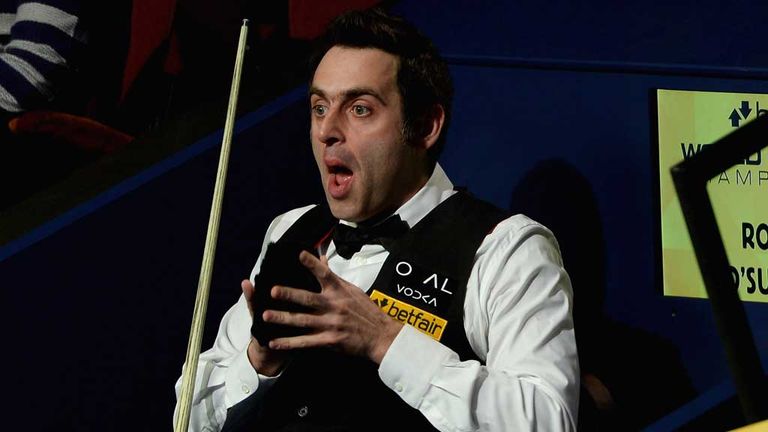 The 37-year-old, who has reached the semi-finals at the Crucible as he chases a fifth World Championship title, claimed on Wednesday that he would give up the game once he had fulfilled a sponsor's commitment to play 10 tournaments.
But O'Sullivan has confirmed he could be swayed by World Snooker chairman Hearn to play in tournaments in the future if the circumstances suit him.
O'Sullivan said: "I'm not going to be chasing rankings points, I'm not going to be going to China six times a year, and if I'm not prepared to do any of that I might as well find something else to do.
"But you never know with Barry, he's always changing things.
"He might go, 'Look Ronnsy, I've got a little tournament for you, you can turn up, do two weeks' practice'. And I might go, 'You know what, I'm up for that'.
"But I'm not up for the constant putting my life into snooker."
O'Sullivan has suggested he wants a quiet life away from the snooker table with property development a possible option for him.
"I don't want to be a celebrity, I don't want to be on the telly, I don't want to do any of that sort of stuff," he said.
"I don't want to be a billionaire, I don't want to rule the world. I want to have a purpose in life and there are other things out there that I'd like to do and I'm excited by it.
"I've been watching these property programmes where they buy a new house, put a new kitchen in... it sounds a bit easier than playing snooker.
"Snooker's been great to me but I find it hard to manage my levels of expectations. I should have bailed out last year, sold my house and paid the school fees.
"But who cares, I'm going to die one day so it doesn't matter."