US Open: Andy Murray out-fought and out-thought by Novak Djokovic, says Greg Rusedski
'Brit took step forward at Flushing Meadows'
Last Updated: 04/09/14 11:18am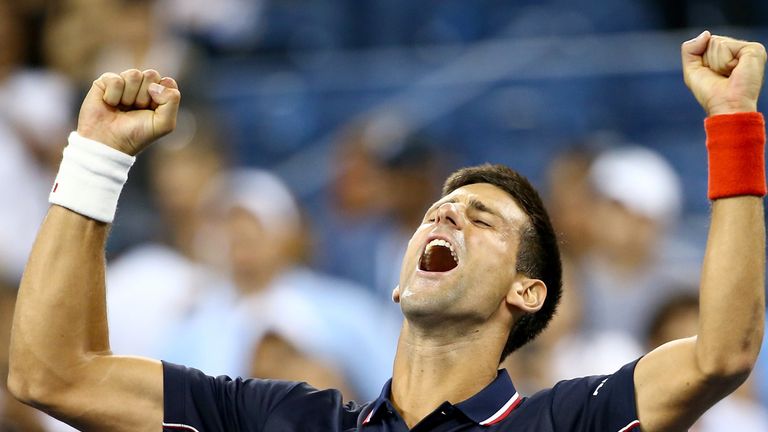 Andy Murray couldn't match Novak Djokovic mentally and physically in their US Open quarter-final, despite playing 'beautiful' tennis, says Greg Rusedski.
The Brit was defeated in a gruelling four-set encounter as back problems took their toll after a fierce opening two sets.
However, Rusedski says Murray can take heart from the way he duelled with the world number one before going down 7-6 6-7 6-2 6-4.
The level of tennis Murray produced in the second set was breath-taking; I've never seen him hit the ball that well, particularly off the forehand.
Annabel Croft
"Djokovic kept his cool in the third set and that was the key to the match from my point of view," said the former British number one. "He kept his focus a little bit better and then physically he wore down Murray.
"Djokovic showed us why he's the number one player in the world tonight."
Annabel Croft was wowed by Murray's attacking forehands during the match and said the 2012 US Open winner was hitting the ball better than ever.
However, the exertions of matching the Wimbledon champion proved too much, she said, and Djokovic was able to capitalise on Murray's waning condition.
"It was extraordinary because the level of tennis Andy produced in the second set was quite breath-taking; I've never seen him hit the ball that well, particularly off the forehand," she said.
"But it was almost as though it took too much out of him mentally and physically. Djokovic is very good at taking matches to a physical level and it goes into a different domain then.
"Andy definitely looked like he was struggling with his back. As we saw Murray walking inbetween points he got stiffer and stiffer, the walk was getting slower, then he started to spin the serve into play, giving Novak opportunities.
"He was still teeing off on the ball, which is actually very difficult as an opponent to face, but Djokovic kept his focus, kept his nerve. It was a terrific contest but at the end of the day Djokovic just had a little bit too much."
No panic
Despite experiencing a fourth quarter-final exit in his past five Grand Slams, Rusedski says Murray can take heart from his performance at Flushing Meadows – and fans shouldn't be worried about his fitness.
As well as defeating a top 10 player for the first time since winning Wimbledon in 2013, Murray showed glimpses of getting back to his best– and should be in peak condition for the start of next season, said Rusedski.
"This tournament was a step forward for him," Rusedski told Sky Sports.
"Murray beat a top-10 player in Jo-Wilfried Tsonga and he played two and three-quarter sets of brilliant tennis against Djokovic. The level there and the striking of the ball was beautiful.
"I wouldn't panic about his condition. He's got the indoor season to improve again, he's going to get some great results and hopefully at the end of the season we'll see him at the O2. Then, after that, he's got a month where he can train physically so, so hard.
"I think he'll be back to his best by 2015."
Balance
As for Djokovic, Rusedski says his performance should not be underrated. 
With Kei Nishikori in the next round, the Serbian is being tipped to reach a third Grand Slam final this season.
"The defence, movement and balance from Djokovic is quite phenomenal, we've never seen anything like it in tennis," said Rusedski.
"Some of the shots Murray hit, Djokovic was able to deflect them for winners and your mouth was on the floor.
"It will be a big challenge for Djokovic because Nishikori has nothing to lose, he takes the ball on and he's very aggressive. But Djokovic has to be the favourite and I expect him to come through in four sets."
Sky Sports' live coverage of the US Open continues from 5pm on Thursday, on Sky Sports 3 HD.