Murray set for Llodra
Andy Murray is determined to play Michael Llodra on his own terms when the two clash in Melbourne on Saturday.
Last Updated: 20/01/12 1:46pm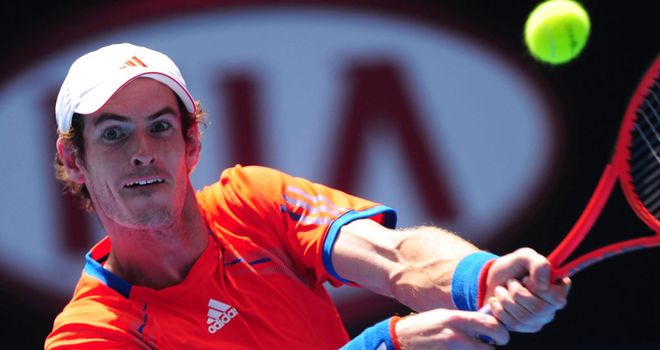 Andy Murray is determined to play Michael Llodra on his own terms when the two clash in Melbourne on Saturday.
World No.46 Llodra admitted following his win over Alex Bogomolov that his only chance of beating Murray was to stick with his attacking serve-and-volley game and hope the Scot wilts under the pressure.
Murray, whose 6-1 6-4 6-4 second-round win over Edouard Roger-Vasselin was a marked improvement on his struggles against Ryan Harrison in round one, is renowned as one of the game's best counter-punchers and the stage is set for a classic contrast in styles.
And the world No.4 said: "I think you want to be able to play the match on your terms.
Aggressive
"There's more than one way of doing that. It's not about just going out and hitting the ball as hard as you can and trying to be aggressive (that way).
"For me, playing closer to the baseline is a good sign as you are taking time away from the opponent. If you stand one or two metres further behind the baseline you're giving them more time on the ball.
"Someone like Llodra, he comes forward all the time, which people might say is a very aggressive style of play, but you can be aggressive from the back of the court as well, like Rafa (Nadal).
"There are many different ways of playing, it just has to be within your game style.
"Mine is by using a lot of variety. I feel like when I play closer to the baseline that's when I have my best results."
Murray will certainly not be surprised by Llodra's gameplan. It is one the 31-year-old left-hander has used throughout his career, bringing him five singles titles and £4.3million in prize money.
And two-time Australian Open finalist Murray is hoping that familiarity will enable him to dictate the rallies.
Favourite
He said: "Once the rally starts, normally by the shots you play you know where the ball is going to come back.
"Once you can understand a player's patterns, you can anticipate the balls much better, see the shots they're going to hit a lot earlier."
It would be a major surprise if Murray failed to extend his record against French players to 38 wins from 39 matches and reach the fourth round, and a potential meeting with another Frenchman, Gael Monfils.
Monfils is one of the players Murray makes a point of watching, with rising Australian star Bernard Tomic another favourite of the British number one.
He said: "Monfils, I think he's an unbelievable athlete, I always enjoy watching him. And Tomic has got a funky game, so different to everyone nowadays. It's fun to watch.
"So I wouldn't mind watching Monfils play Tomic."