Murray targets perfect match
Andy Murray is looking to play the 'perfect match' against Roger Federer at Wimbledon on Sunday.
Last Updated: 28/02/13 11:13am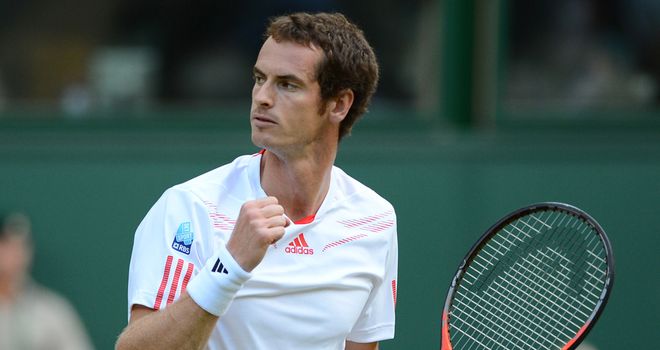 Andy Murray is looking to play the 'perfect match' against Roger Federer on Sunday as he bids to become the first British men's Wimbledon singles champion since 1936.
Scottish ace Murray reached his first Wimbledon final and fourth grand slam decider with a 6-3 6-4 3-6 7-5 victory over Jo-Wilfried Tsonga.
It will be the third time Murray and Federer have met in the finals of grand slams, with the Swiss triumphing at the US Open in 2008 and in Melbourne in 2010 - both times in straight sets.
But Murray insists he will not look back, instead focusing on trying to play his best game against Federer, who is looking to equal Pete Sampras' record of seven Wimbledon titles.
"My coaches will watch his matches this week and some stuff from when I have played him before," said the Scot. "I try not to watch before I play against him. I've seen some of his matches this week.
"I've learned from those matches that I lost against him in the past. But if you go too much into detail of things that happened in the past, it's not always beneficial, because in tennis every day is different.
"So I just need to try to make sure I play a perfect match on Sunday."
Start well
The British number one insists making a fast start on Sunday will be key to his chances of securing his first major crown.
"Ideally you want to try to get off to a good start. That would make a big difference, I'm sure," he continued.
Federer turns 31 next month and has not won a grand slam title since beating Murray in the Australian Open two-and-a-half years ago.
But, while Rafael Nadal and Novak Djokovic have dominated the major finals, Federer has not been far behind and, after beating Djokovic in the semi-finals, he can reclaim the world number one ranking with victory on Sunday.
Murray said: "Over the last couple of years his record in the slams has been unbelievable. The matches that he lost here, he was up two sets to love against Tsonga last year.
"He's lost some close matches in the slams the last few years, but he had match points against Novak at the US Open two years in a row.
"If you look at the way he played (against Djokovic), you can't say he's past it or because he's 30 he's playing worse tennis. I just think the players around him have got better."
Self-motivation
The Scot has come through a tough draw to reach Sunday's showpiece and, while there is massive anticipation as he looks to become the first British men's singles champion since Fred Perry, Murray's main motivation comes from within.
"Almost every time you step on the court you're trying to prove something to yourself," he explained. "I think that's what motivates you to get better. Also the players that are around me as well.
"I think you can't stay at the top of any sport, especially one as competitive as tennis, if you don't have very good self-motivation. I think that's very important."
Murray has spent 16 hours and 45 minutes on court in reaching the final, four hours and 36 minutes more than Federer, but the Scot insists tiredness will not be a problem.
The world number four said: "I felt fine (against Tsonga). I felt less tired than I did in the match with (David) Ferrer because there weren't as many long rallies.
"It wasn't that tough physically. It was more mental. That was the hard part."