Davis Cup final: Czech Republic bid for team cup double against Spain
The Czechs are chasing a rare double and revenge when they tackle Spain in the Davis Cup final in Prague this weekend.
Last Updated: 16/11/12 6:53am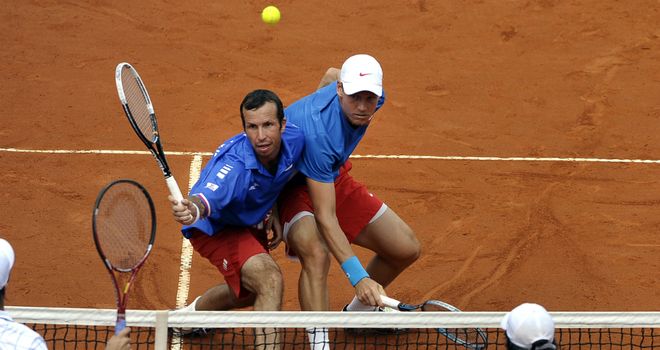 The Czech women beat Serbia in Prague in the Fed Cup and the boisterous 14,000 home crowd at the O2 Arena will now cheer their men on against Spain in the Davis Cup final starting on Friday.
It has been 22 years since a country last won both events, with the USA team of 1990 picking up the last Davis Cup-Fed Cup double, but the Czechs are hopeful of adding to the illustrious list of double winners.
There is also a big score to settle with Spain, who pummelled the Czechs 5-0 in the final three years ago, but will this time be without Rafa Nadal and the advantage of playing on their home clay as they look for a fourth title in five years.
Czechoslovakia won their only Davis Cup back in 1980 when being led by a young Ivan Lendl, and neither of the newly formed nations of Czech Republic or Slovakia have managed to add to that single triumph.
World No 6 Tomas Berdych will lead the Czech bid, alongside Radek Stepanek, Ivo Minar and Lukas Rosol - who famously beat Nadal at this year's Wimbledon.
World No 5 David Ferrer hopes to cap one of his best ever seasons by leading Spain to yet another win, in Nadal's absence, and he is joined by Nicolas Almagro and ATP World Tour Finals doubles champions Marcel Granollers and Marc Lopez.
Surface
A new surface in Prague, a quick hardcourt, has been installed and the hosts hope that will give them the edge over the clay-loving Spanish - along with a hugely noisy home support.
"Our three greatest advantages are the choice of surface, the home crowd and Nadal's absence," Stepanek said. "For us the most important thing is to have three points come Sunday. That is why we are here that is what we are focusing on."
The new 'Novacrylic Ultracushion' surface was tested at the Fed Cup and Berdych agreed that it was quicker than anything else he'd played on.
"It's well prepared, I'd say the surface is faster than at regular tournaments," said Berdych.
Ferrer agreed, adding: "The court is the fastest of the year, we never play on a faster court. The court will be better for the Czechs than us but it is the final of the Davis Cup so I'm sure it is going to be very close."
Both teams have remained the same from their semi-finals, with Czech captain Jaroslav Navratil keeping the same unit that beat Argentina and Spain counterpart Alex Corretja keeping the team intact that beat America.
That 2009 final is still fresh in the minds of both teams, but neither think Spain's 5-0 win in Barcelona will have any influence on the latest Davis Cup final.
"Barcelona was a great experience that we can learn from and maybe we can use that experience in front of our home crowd," Stepanek added.