Tennis: Tears flowed as Andy Murray accepted the freedom of Stirling on return home
Wimbledon champion Andy Murray has been granted the freedom of Stirling on an emotional return to Scotland.
Last Updated: 24/04/14 5:18pm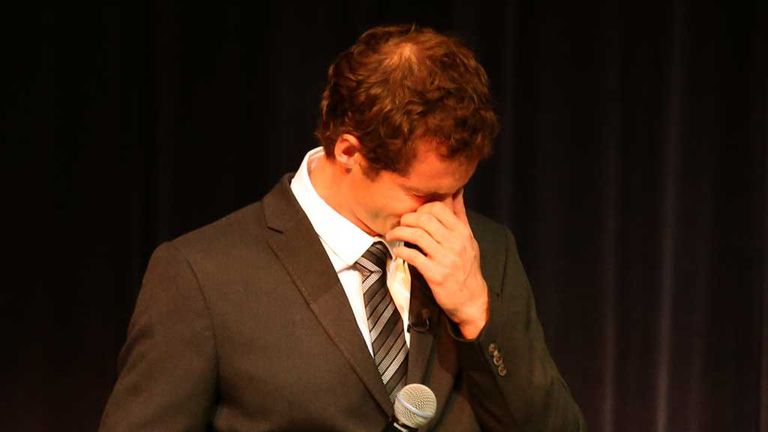 The Wimbledon champion was overcome with emotion as he thanked officials for the honour during a ceremony held at his former school, Dunblane High, six miles north of Stirling.
His mother Judy, father William and both sets of his grandparents watched as Stirling Provost Mike Robbins presented him with a framed scroll with his full title, Andy Barron Murray OBE.
Murray, his voice cracking at times, said: "I'm going to keep this very short because there's a good chance I'll get emotional.
"I'd like to thank the council for voting me in - I was expecting a few nos. I was thinking, 'there's got to be one of you who doesn't like me'.
"I'd like to thank all my family and friends and girlfriend for coming to support me."
Standing ovation
He apologised as he took another break to calm his emotions, and was given a standing ovation as he said: "I think everyone knows I'm extremely proud of where I come from.
"To get this honour means a lot to me so thanks to everyone for coming along - and I apologise for this behaviour."
Later Murray was presented with an honourary degree by the University of Stirling where he used to train on the courts of the Scottish National Tennis Centre.
University principal Professor Gerry McCormac said: "We are delighted to welcome back Andy Murray to the university campus.
"One of the greatest athletes of his generation, Andy has broken the boundaries of British tennis and elevated the profile of the sport to new levels.
"His exceptional sporting abilities, diligence and tenacity make him an inspirational role model to our students and to people across the world."