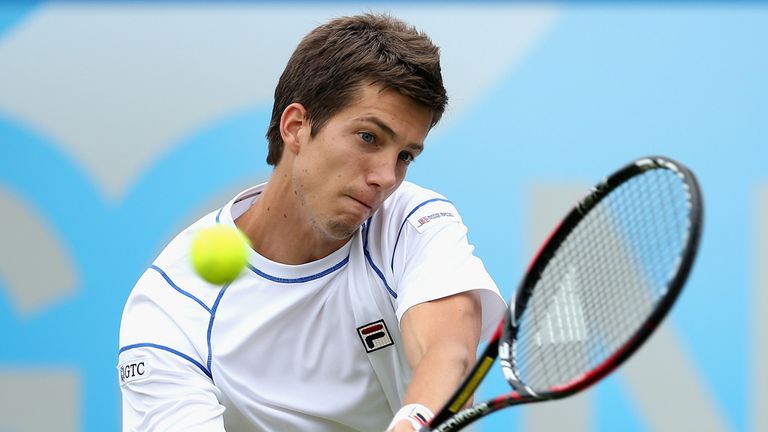 Aljaz Bedene says there is "nothing wrong" with his attempts to switch nationalities in order to play Davis Cup tennis for Britain.
Bedene was born in Slovenia and has represented his native country three times in Davis Cup action, but will qualify for Britain on residency grounds in February if his passport application is approved.
The 24-year-old, who lost to Paul-Henri Mathieu in the first round at Queen's on Monday, is ranked 132nd in the world but has been as high as 71 in the standings.
"I really love living here, I love British people: I feel like I'm at home," he told BBC Sport.
"I feel I have been living here longer than six years, I have felt British already for a few years."
Bedene has already ruffled the feathers of one of his potential GB team-mates, with British No 2 Dan Evans tweeting: "So a guy is becoming British who has already played for his country. Doesn't quite sound right to me!"
Negative
"There were a few negative comments about that, but I just played dead rubbers," said Bedene, who recorded two victories and one defeat in his Davis Cup ties against Norway, Italy and Denmark.
"I never actually played a live rubber so I wasn't really fighting for a country in the way I wanted to. So I want to play for Great Britain in a live rubber if I get a chance and I think there's nothing wrong with that."
Bedene said he had yet to speak to British number one Andy Murray about his plans.
"[I've not spoken] with the ones at the top. Not Andy yet. But I've spoken to my friends - like David Rice, Ed Corrie - they seem keen, although I don't know what they're thinking when they are not with me," he said.
"But I think in the end they will accept me. I see myself as a British player, and I hope they recognise that as well."
Britain's next Davis Cup action is their World Group first-round tie in March 2015, with the draw for their opponents to be made in September.