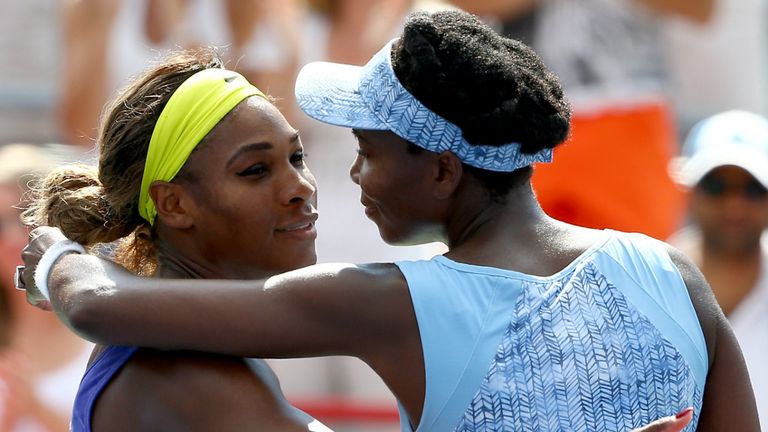 Venus Williams came from behind to upset her top seeded sister Serena 6-7 (2/7) 6-2 6-3 and reach the final of the Rogers Cup in Montreal.
She will face third seed Agnieszka Radwanska, who beat Ekaterina Makarova 7-6 (7-1) 7-6 (7-3), in Sunday's final.
Venus started the better of the sisters, breaking in the first game of the match, but Serena was able to get it back to tie it up at 3-3 and she then managed to get the upper hand in the tie-break to carve out a one-set lead.
But Venus was far from done. She again broke Serena's serve first up and this time stayed strong on her own serve, preventing Serena from manufacturing an opening.
Instead, it was Venus who snuck another break before she went on to take the second set and send the match into a decider.
One more break was all Venus needed in the third for a 4-2 lead and, having got her nose in front, she did not surrender the advantage, using her powerful serve and massive groundstrokes to close out the win - her first victory over her younger sibling since a three-set victory in Dubai five years ago.
The win also saw Venus improve her record to 14-11 against Serena, who was the defending champion having lifted her third Canadian crown last year when the tournament was held in Toronto.
Pretty high
"The level of game we played was pretty high," Venus said. "We're both serving well, returning well, moving well - everything is happening so well that all of our matches seem to be very competitive."
Venus said the victory was testament to the hard work she'd put in this season.
"I think a lot of it is physical and a lot of it is mental, too," she said. "I've been working hard. And more importantly, I've been feeling better. I hope I can keep some of this control in my life - if I have that control, I can enjoy being on the court, and win as well.
"I definitely expected a tough match. She played well. She hit so many aces. What's so unique about the situation is that we're both very good players.
"I think typically you may have some siblings, one is quite good, one is not as good, so you kind of know what the result is, or the one that's better knows they're going to win.
"I think we both know when we walk out there, it's not like you're guaranteed a win. I think that's what makes it challenging for both of us."
Poland's Radwanska beat Makarova of Russia to advance to her second final of the year.
Radwanska won the first after powering through the first set tie-break 7-1. She broke twice in the second to serve for the match at 5-4. However, she was broken a second time herself and the set went to a second tie-break. But the Pole prevailed again to gain revenge for her fourth round defeat by Makarova at Wimbledon.
"I think it was a great match, two hours of fighting and long rallies and tight games," she said.
"I had to really run a lot to win that match because she's so good. I think I was just better on a few points today."