Jo-Wilfried Tsonga 'has many areas to improve', says Greg Rusedski
Greg Rusedski says Jo-Wilfried Tsonga has 'many areas to improve' if he is to beat the world's best.
Last Updated: 07/11/12 11:20am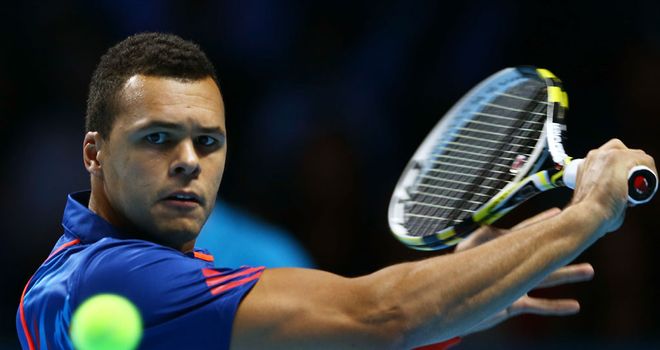 Rasheed, who teamed up with the Frenchman in October, saw his man suffer a 7-6 6-3 defeat to World No 1 Novak Djokovic in his opening match at the ATP World Tour Finals at the O2 - the match lasting an hour and 39 minutes.
Tsonga earned a break point in the opening game and another in the eighth, but couldn't convert either and Rusedski told Sky Sports those misses highlighted deeper failings.
"Rasheed will think to himself 'I can't wait for the off-season to start' because there are so many areas to improve, especially on Tsonga's backhand side," he said.
"Technically it's not a very good shot because when he's really stretched on that side he can only really go up the line - he can't go cross-court with that shot.
"His second serve return of serve needs to be more aggressive; when we saw him get to the semi-finals last year we really saw him take on that second serve and come forward and be more aggressive.
"Tactically, when the big points arise, he needs to learn how to play the percentages so you don't really knock yourself out of the situation.
"If he can do that and make those changes, then maybe Tsonga can break into that top four but that is a big question mark."
Valiantly
Not only did Tsonga fail to convert any of his three break point opportunities, but he made 26 unforced errors in contrast to Djokovic's 17.
Sky Sports expert Peter Fleming believes that until the World number eight becomes more ruthless he'll continue to come up short.
"One of the reasons why he's not challenging the top four or five players in the world is that he doesn't quite finish guys off," he said. "His shot selection needs to be improved in those sorts of situations.
"But you have to give a lot of credit to Novak Djokovic because like Andy Murray, he didn't come out and play his best tennis at the start and yet he competed so valiantly.
"He saved one break point with a diving, lunging volley; not many people would have put that ball back into court but he did. He does what it takes to win and that's why he's such a tough guy to beat."
Stretching
Former British number one Annabel Court witnessed Djokovic's determination up close from court-side and explained why the Serb is so difficult to beat indoors.
"It is quite astonishing when you are down at court level because he is stretching for balls that not many players could get to and then get it back with a little bit of interest on it," she said.
"His core is so strong, stable and balanced when he is out of position, whereas with a lot of other players when they are out of position they are off balance and they can't get enough weight going through the ball.
"I also think that his sliced backhand, which he has improved over time, is getting better and better. In the past I didn't think technically that it was a very sound shot and it didn't have a lot of real sting on it, but now it is really starting to hug the court and stay very, very low.
"In some of those rallies they were really chipping the ball; they were drawing oohs and aahs from the crowd down there because it was wonderful to watch.
"Djokovic is coming into the net more; there are so few gaps in his game it's really tough to see how players can get past him."
Don't miss day two of the ATP World Tour Finals on Sky Sports. The action begins at 1.30pm on Sky Sports 1 HD, then continues on Sky Sports 3 HD at 6pm.