Murray's moment?
Sky Bet's Tim Clement offers his in-depth Wimbledon preview, explaining who he thinks will triumph this year
Last Updated: 23/06/13 5:33pm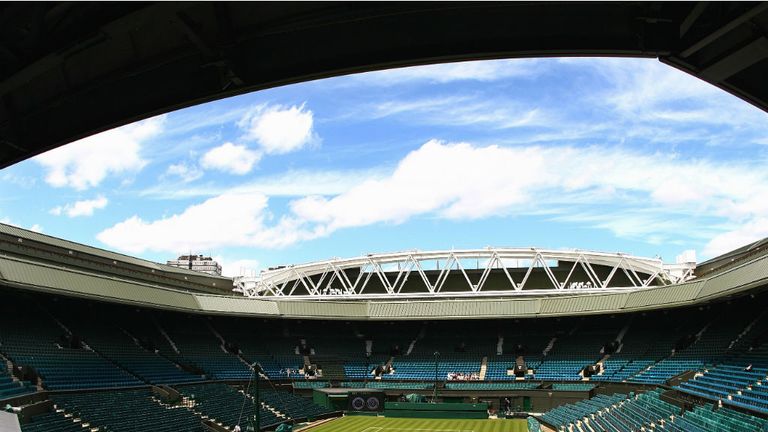 Andy Murray now knows his route towards a maiden SW19 title, with Jo-Wilfried Tsonga offering the greatest challenge from his quarter and either Roger Federer or Rafael Nadal likely to be standing in his way to a second successive final appearance.
Clearing that final hurdle is likely to be the toughest with world No 1 Novak Djokovic handed a favourable route on the other side of the draw.
Each of the 'Big Four' can make a strong case for having the form, while David Ferrer's age-defying results added a new dimension to this year's draw.
It is the Serb's odds which have tumbled since Friday, with Sky Bet cutting him from 15/8 to 6/5 following the draw, with unfancied fourth seed Ferrer placed in his half.
Fans and punters are destined to be divided on their picks given Djokovic's draw, Nadal's form, Federer's SW19 record and Murray's breakthrough last 12 months.
It is virtually impossible to make a case for opposing the 'Big Four' given their dominance, having shared 33 of the last 34 Grand Slam titles.
The courts
While Wimbledon may remain entrenched in tradition, the style of play predominantly practiced at SW19 has changed dramatically over the last decade. The once dominant serve and volley approach is now a rare sight with the courts playing much slower in recent years, conforming towards the predominant pace on the majority of the tour. However, the aggressors placed on Centre Court still reap the rewards on rain days, with the closed roof removing any detracting conditions and speeding up the play.
The weather
The aforementioned roof means Wimbledon is no longer at the mercy of the typically unpredictable British weather conditions. While play on other courts is halted due to the inevitable rain, organisers can close the roof if needed, but will ultimately endeavour to ensure the maximum possible amount of tennis is played with it open. A mix of cloud and sunshine is currently forecasted for the fortnight, but we all know how quickly that can change.
Last year's final
The 2012 final will be remembered for two things; the moment Federer consolidated his status as the greatest of all time title and Murray's tears. The Scot came agonisingly close to becoming Britain's first male singles winner since Fred Perry in 1936 as he won the first set. However, the Swiss star rose to the challenge impressively, prevailing 4-6 7-5 6-3 6-4 to equal Pete Sampras' record of seven titles. Federer was not the only player making history, with Murray pulling level with his coach Ivan Lendl for most successive major final defeats.
Contenders (and Sky Bet odds)
Novak Djokovic (6/5)
The world No 1 looked somewhat of a soft favourite given the merits of his rivals but now heads the market by some distance thanks to a favourable draw. Avoiding Federer, Nadal and Murray was a dream outcome for the Serb and he has consequently been cut significantly from 15/8. The 26-year-old landed his maiden Wimbledon title in 2011 on the back of a sensational run, which saw him go unbeaten until a semi-final loss at the French Open. He lost at Roland Garros at the same stage this year but has been far from invincible force from two years back, suffering defeats to four players outside the top five since retaining the Australian Open. Djokovic is almost priced up as if he is already in the final, so backing him before he has navigated his way there makes little sense. However, likely quarter and semi-final opponents Tomas Berydch (who trails their head-to-head 2-13) and David Ferrer (who he has beaten in their last four meetings) will need to be at their very best to have any chance of halting the favourite.
Andy Murray (7/2)
The Scot is considered a different force to this time last year, no longer a perennial bridesmaid but the US Open and Olympic champion. Having both Nadal and Federer in his half of the draw may appear daunting, but it would have been far worse if the 'King of Clay' had been dropped in his quarter. Having to beat two of the 'Big Four' was the most likely outcome, one would have been a bonus, three looks virtually impossible. The grass courts seem to perfectly compliment his game, with his ability to play both flat and with slice enabling him to accentuate the challenges of playing on the surface. While the 26-year-old is often criticised being too defensive, he has proved his ability to attack and dominate when the moment requires of late, but don't expect him to be employing any serve and volley tactics quite yet. Injury doubts hung over Murray after he opted to sit out the French Open but, with no signs of the back problem as he collected a third Queen's title, he will be fresher for the break.
Rafael Nadal (4/1)
It cannot be overstated how remarkable the last three months have been for the Spaniard. Since losing a final to Horacio Zeballos at Vina del Mar in his first tournament back after seven months, Nadal has won all but one match. The run has seen him claim seven titles and surge to the head of the 'Race to London' rankings. Despite this, Nadal, a long propagator of the two-year rankings system, arrives at SW19 as fifth seed, meaning he faces one hell of a task in adding to his title tally. Many will point to the fact that the majority of those results were achieved on his favoured clay, but he also triumphed in Indian Wells, where the 'Big Four' were all in attendance for the first time since Wimbledon 2012. However, he arrived at SW19 in similar form last year only to be ousted by little known Lukas Rosol before beginning his spell on the sidelines. Whether his game or body are ready to take to the grass is the big question, while his route to a third title here is as hard as they come. If he can beat Federer, Murray and Djokovic and claim a 13th major then it will amount to one of sport's greatest ever comebacks.
Roger Federer (7/1)
As a seven-time champion here and having manipulated the schedule around being in the best possible condition for his title defence, it seems preposterous that he is such a large price. The Swiss star, who took a seven-week break after the Australian Open, warmed up by claiming a fifth title at Halle, indicating that he is ready to renew his dominance on grass. However, Federer saw Nadal placed in his quarter in Friday's draw, meaning he may have to beat his greatest rival, who leads their head-to-head 20-10, and then Murray and Djokovic. His triumph here last year was also a first addition to his major haul in 10 attempts, while he has not reach another final since and his title at Halle was a first on tour in 10 months. The task looks a daunting one but, then again, why should Federer fear anyone on the green grass of the All England Club?
David Ferrer (50/1)
The 31-year-old may have fourth-seed status and a favourable draw, but his chances are still being written off by most quarters. The relentless Spaniard reached his first major final at Roland Garros and looks a good bet at 15/8 to win his quarter given Juan Martin del Potro's inconsistencies and condition. However, he needs the favoured four to have off days if he is to have any chance of going any further. At 50/1 he looks big but you are essentially relying on a slip up from Djokovic, who doesn't really do 'bad days in the office'.
Best of the rest
Jo-Wilfried Tsonga is a fans' favourite and boasts all the attacking weapons for grass, but there is a reason the Sky Bet tennis trader is willing to 'Price Boost' him from 22/1 to (28/1). The Frenchman's consistency is an ever-enduring problem, not just over the course of a tournament but in matches. Being placed in Murray's quarter is a nightmare draw given he has lost their last seven meetings, including a recent three-set loss at Queen's. Tomas Berdych (40/1) showed he has the game grass in reaching the final in 2010 but endured a wretched run on the surface last year, winning just one match from three events. The Czech enjoyed a win over potential quarter-final opponent Djokovic in Rome but that victory ended a 12-match losing streak, while he disappointed at Queen's in losing to Marin Cilic in the quarters. Fellow big hitter Del Potro (33/1) always warrants a mention as the only player to break the stranglehold of the 'Big Four' with his 2009 US Open success, but needs to prove both form and fitness before warranting anyone's hard-earned cash.
Conclusion
It is easy to make cases for each of the 'Big Four' and dismiss the rest, so which one of the game's big names wins? Andy Murray. There, I've said it. Murray wins Wimbledon, prepare yourself for tears of joy. His efforts at the Olympics showed a new mental maturity and strength, proving he can carry the hopes of Britain, while his US Open triumph galvanised that spirit. I now see no mental barriers standing in his way and, while Federer in his ilk is the greatest, it is the Scot now possesses the strongest case to win Wimbledon. He dismantled a fatigued Federer in the Olympic final and I'd be amazed if the 31-year-old comes through a likely quarter-final clash with Nadal without significant physical expenditure. Regarding the rest of the field, he is simply a better grass court player than the rest. If you remain unconvinced then I point you in the direction of his Olympics semi-final match with Djokovic.
Top tips:
Murray to beat Djokovc in the final - 6/1
Ferrer to win his quarter - 15/8
Semi-final line-up - Federer, Murray, Djokovic and Ferrer - 10/1
Click here for completely free £10 bet with Sky Bet