Wimbledon Diary: Sky Sports takes a look at all things SW19 related
Sky Sports looks at some quirky stories, quotes, facts and stats from the first day at Wimbledon.
Last Updated: 24/06/13 9:31pm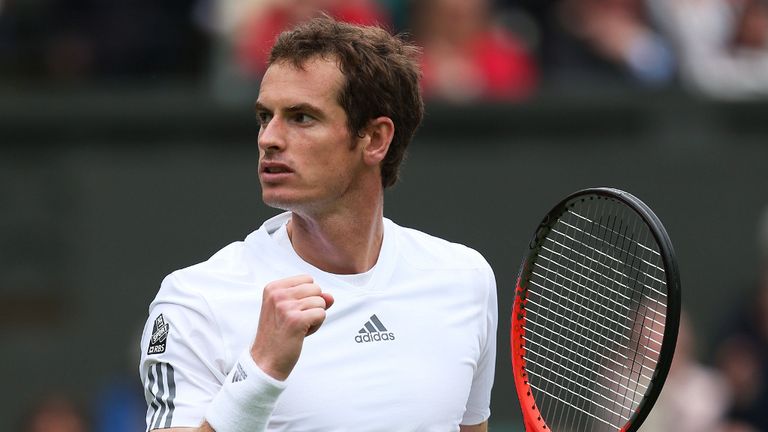 The women's second seed is dating the performer Redfoo, a singer and DJ from the dance act LMFAO, who also fancies himself with racket in hand.
And Redfoo, recognisable at Wimbledon for his over-sized glasses and crazy hair, played in a regional qualifier for the US Open last week, dreaming of Flushing Meadows.
Alas the 37-year-old was thrashed, and Azarenka wants to see his forehand improve before he tries his luck another time.
"He's happy with the match," Azarenka said on Monday. "I didn't see the match because it was night-time here.
"As long as he's happy, I'm proud of him no matter what. To go out and have courage to do something like that, that's pretty remarkable.
"He's a champion in his heart. I mean, his forehand should get better, definitely. That's something that he has to work on."
Brutal lesson
Maria Sharapova believes she would receive a brutal tennis lesson if she could play Steffi Graf at the German's peak.
Asked on Monday to identify the player she regards as the greatest in the history of the women's game, Sharapova said: "That's an extremely tough question because I wasn't part of the generation which consisted of incredible players. I can only speak of the generation that I was part of. I never played Steffi Graf. I never played Chris Evert. Never played Navratilova. So those are considered incredible champions. I don't think one should be called greater than the other."
When asked who she would like to play and how she might get on, the response was "Probably Steffi. I think she'd chop me up."
Quote of the Day
"I tried my best and congratulate the opponent. It is not a tragedy, it is sport."
- Rafael Nadal after his shock defeat to Steve Darcis.
Picture of the Day
Spain's Rafael Nadal waves to the crowd after losing to Belgium's Steve Darcis. He had never lost in the first round of a grand slam before.
Wimbledon weather
MeteoGroup forecast: It will be a dry, fine and mostly sunny start to the day in SW19 on Tuesday. There will be a partial build up of cloud later in the morning and into the afternoon, perhaps with the odd light shower, although occasional sunshine should continue to break through. The risk of any showers is quite small, and play is unlikely to be interrupted. Light north-westerly winds with temperatures reaching a high of 20C (68F).
Tweet of the Day
"Honoured to be in the @Wimbledon Royal Box today. Incredibly special #faultless"
- British Davis Cup player Ross Hutchins (@RoscoHutchins), who has just finished six months of chemotherapy as he fights Hodgkin's Lymphoma, enjoyed his day as Wimbledon royalty.
Stat of the Day
Andy Murray's win over Benjamin Becker means he has won more grand slam singles matches than any other British man in history. His win-loss record stands at 107-28, with Fred Perry next on 106-14, and Tim Henman third on 98-49. Virginia Wade's record of 130-55 gives her the most wins by any Briton.
Tuesday's Match of the Day
Tenth seed Maria Kirilenko could find herself facing an inspired Laura Robson in the second match on Court One, with the British number one calling on the Wimbledon crowds to bring back the atmosphere that inspired her run to the Olympic mixed doubles final with Andy Murray. If they back the 19-year-old world number 38 to the hilt, it could be distinctly uncomfortable for Russian Kirilenko.