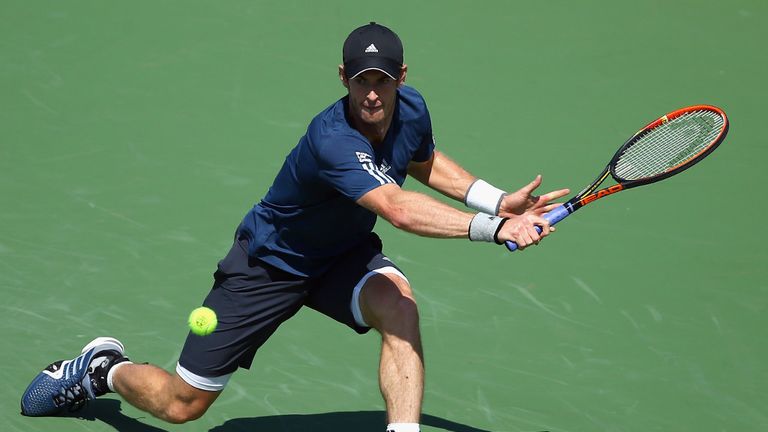 Andy Murray faces further soul searching following his quarter-final defeat by Roger Federer at the Cincinnati Masters, according to Sky Sports' Mark Petchey.
The British No.1 slumped to a 6-3 7-5 loss to Federer at the Western & Southern Open.
Murray had gained a double break in the second set after losing the first, but Federer won six of the final seven games to progress into the semi-finals.
Murray's first serve percentage was a lowly 48 and he struggled to match his rival from the baseline.
And it was a further setback for the British player who has struggled to find his best for this year.
"Federer was stronger on serve and stronger in a lot of those baseline rallies," Petchey told Sky Sports. "It is another victory for Roger Federer and a little bit more soul searching for Britain's No.1.
"And it is another week that passes by for Andy Murray when there is no trophy to fill that enlarged trophy cabinet that he has. He certainly needs to get that winning feeling back."
He added: "Tough times don't last; tough people do, as they say. Andy has certainly proved that over the years that he is happy to come back from a heavy dose of adversity. The numbers on his first serve won't please him but the lead he relinquished in that second set will be the most disappointing to him."
Fellow pundit Peter Fleming agreed that Murray was well below his best but said that Federer was approaching his peak and on the "right road" as he prepares to face Canadian fifth seed Milos Raonic in the semi-final.
Fleming said: "It was a good performance for Roger Federer. He certainly played well enough to win and at times played his very best.
"For Andy Murray it was a disappointment. It was not the way he wanted to play and certainly not on a big occasion. There is more work to do between the years for Andy Murray but for Roger Federer another opportunity to improve. He certainly seems to be on the right road."