US Open 2014: Andy Murray will enjoy underdog role against Novak Djokovic
Greg Rusedski backs Scot to relax in Wednesday's quarter-final
Last Updated: 01/09/14 10:54pm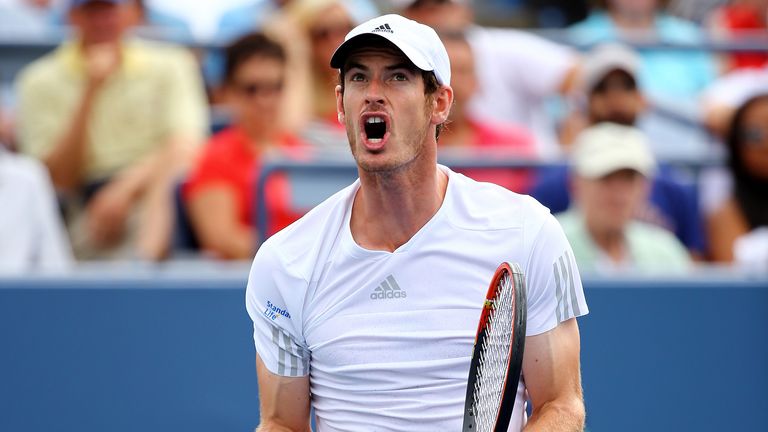 Greg Rusedski says Andy Murray will relish the role of underdog when he faces Novak Djokovic in the quarter-final of the US Open.
The British number one set up a clash with the world number one after an impressive straight sets victory over Jo-Wilfried Tsonga on Monday evening, a display which Rusedski says is his best since he underwent back surgery last year.
And the Sky Sports pundit says Murray can relax in Wednesday's mouthwatering showdown with Djokovic because nobody expects him to win.
Rusedksi told Sky Sports: "He has nothing to lose because he's playing Novak Djokovic, who is the favourite. Everyone's thinking he's going to come through.
"It's quite nice to be in that position where you can have a free go at the world number one.
"Against Tsonga, I thought Murray's footwork was very impressive. He was moving his feet and you could hear him from the first point and the intensity he brought from the opening of the match.
"By the end he was passing very well on the forehand and the backhand side and throughout these championships he hasn't done that quite as well.
"If he can maintain the service statistics and the speed he had from the first set it will be very interesting when Djokovic and Murray meet on Wednesday night.
"He is going to hope for windy conditions because when conditions are calmer it suits Novak a little bit more, but he has nothing to lose because all the expectation is in Djokovic's corner.
"It's a nice position to be in for a quarter-final, especially having won his first major title here and knowing he will be on Arthur Ashe Stadium.
"A lot of things are in his favour going into that match."
Murray's 7-5 7-5 6-4 win over Tsonga has put him back in a strong position to qualify for the ATP World Tour Finals at the O2 Arena at the end of the year and gave him a win over a top-10 player for the first time since he won the 2013 Wimbledon Final.
And Rusedski says those facts won't have been lost on the Scot as he prepares to face Djokovic.
"Murray is statistical geek," he added.
"He studies every statistic out there and every opponent, so he will know that he hasn't beaten a top 10 player – even though he won't say it in a press conference.
"For him it's a big step forward and for the rest of the season he has no more points to defend, so he can relax into it.
"The only way for Andy Murray at the moment, in my opinion, is upwards again."