US Open: Serena Williams will win but other Americans can make mark
The US Open is Serena Williams' to lose, says Barry Cowan, as he previews the Flushing Meadows event.
Last Updated: 25/08/13 6:26pm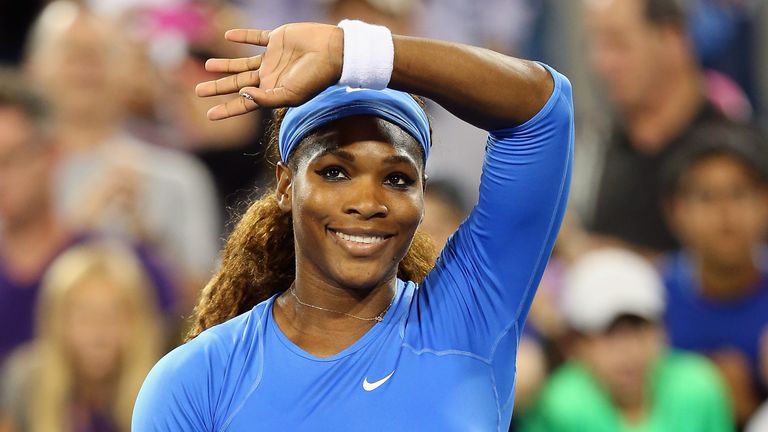 The American, in my opinion, is head and shoulders above the rest of the players in the ladies' draw and results show that - but I was amazed at how fragile she seemed at Wimbledon considering the amount of confidence she should have had.
Serena has won so many titles in her career and coming off a victory at the French Open I expected big things from her, but she looked vulnerable as she lost to Sabine Lisicki in three sets in the fourth round.
However, logic dictates that she is the overwhelming favourite at Flushing Meadows and having lost to Victoria Azarenka in the final in Cincinnati last week, she will take no-one for granted in New York, something she might not always have done in the past.
Azarenka is the only other player who I think can win the US Open, though not many people would have picked Marion Bartoli to win Wimbledon so perhaps we are entering a period of unpredictability in the women's game.
Lacking
As for the rest of the big names, there are more questions than answers.
There are doubts about Petra Kvitova every single week as I don't think she knows how she is going to play, and while Agnieszka Radwanska is a very clever player, she lacks power and there is always the possibility that she could get hit off the court by Serena.
Laura Robson would have had high hopes here after a good Wimbledon, but she has had a wrist injury and it is going to be hard for her to pick things up straightaway, while she also has big points to defend after making the fourth round last year.
There are a couple of loose cannons in Li Na and Caroline Wozniacki, while Jelena Jankovic, the ninth seed, has rediscovered the form that has deserted her recently, so it will fascinating to see which players in that tier evolve.
It will also be intriguing to see whether any of the young Americans can make a surge as I feel that there are a number of talented girls in the States - the fact there are eight Americans, excluding Serena and Venus Williams, in the world's top 100 highlights the promise.
Some really talented players, like Sloane Stephens, Jamie Hampton and Madison Keys, will push each other and that healthy rivalry will be vital over the years - and, perhaps, even over the next two weeks.
Another North American player, 19-year-old Canadian Eugenie Bouchard, could also make a big break, but Maria Sharapova won't figure after pulling out of the event with a shoulder injury after a bizarre few days.
I found everything that happened with her over the last week perplexing - firing her coach, Jimmy Connors, after one just match and then the whole 'Sugarpova' debacle - and her mind was clearly not on winning a Grand Slam.
I wish Maria well and hope she gets back to fitness before the end of the year.