Marray out to inspire Murray
Jonny Marray is hoping that his historic success at Wimbledon can inspire Andy Murray to glory.
Last Updated: 08/07/12 9:19am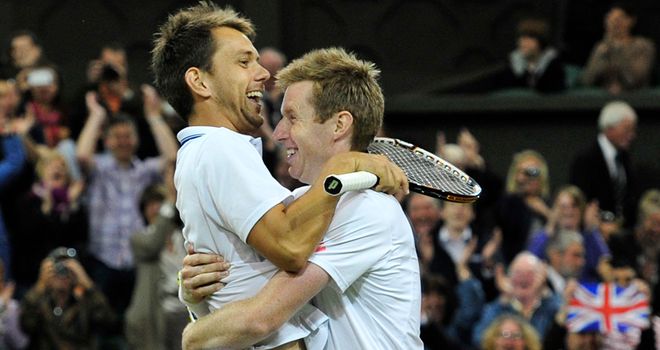 Jonny Marray is hoping that his historic success at Wimbledon can inspire Andy Murray to glory.
Marray became Britain's first men's doubles champion at Wimbledon for 76 years after he and Danish partner Freddie Nielsen beat fifth seeds Robert Lindstedt and Horia Tecau 4-6 6-4 7-6 (7-5) 6-7 (7-5) 6-3 in the final.
It was a remarkable victory for Sheffield's Marray and Nielsen, who needed a wild card to get into the tournament but went on to shock defending champions Bob and Mike Bryan in the semi-finals
And it was another good omen for Murray ahead of Sunday's men's singles final against Roger Federer.
In 1936, Fred Perry won the singles and Pat Hughes and Raymond Tuckey won the doubles, and no British player had matched either achievement until Marray's success.
Marray said: "I'm sure he was watching. He follows how all the guys do. We're friends. If it gives him any kind of inspirational help, I'm sure it would be good.
Significance
"Obviously everyone's hoping for him to win. He's come so close in a lot of grand slams so many times before. He's working hard and he's right at the top of his game. I don't see why he can't."
The result also had historical significance for Nielsen, who went one better than his grandfather Kurt, a two-time runner-up in the singles in the 1950s and the last Danish finalist at the All England Club.
The pair only played together because Marray and his original partner, Canadian Adil Shamasdin, were not ranked high enough to get into the tournament in their own right.
Neither Marray nor Nielsen has ever reached a final on the ATP World Tour, but their victory should be enough to get them into the Barclays ATP World Tour Finals at London's O2 in November.
Marray admitted he could not quite believe what had happened.
He said: "I've been saying to Freddie, I don't feel any different or anything. It's just like winning another tennis match. I suppose it will take time to sink in.
"When I see my friends and family and speak to them about it, over the course of a few days, a few weeks, I'm sure it will sink in a bit more."