French Open 2014: Maria Sharapova hoping to benefit from extra rest after Rome exit
Maria Sharapova hopes her early defeat in Rome can be a blessing in disguise as she prepares for the French Open.
Last Updated: 24/05/14 9:01pm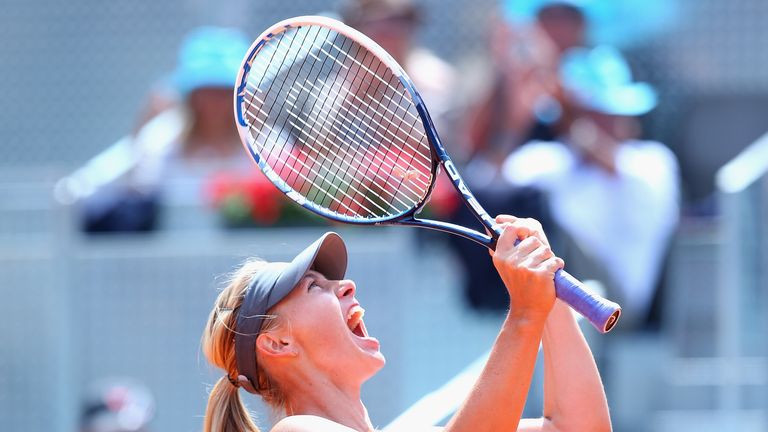 The Russian completed her career Grand Slam in 2012 by winning the title at Roland Garros and reached the final again last year before losing to Serena Williams.
She then began her clay-court season with titles in Stuttgart and Madrid this year only to then fall to Ana Ivanovic in the third round in Rome - the first match she has lost on clay to a player other than Williams since a semi-final defeat to Li Na at the French Open in 2011.
"I think time will ultimately tell," she said. "I think it gave me a few extra days maybe to rest instead of trying to hurry up and come here and trying to get on the courts as soon you can.
"So in a way it's been great to have that. Of course I would have loved to have done well in Rome, as well.
"I had great preparation. I had two great tournaments and had really tough matches, easier matches.
"I think a lot has been thrown at me in the last few weeks in all the matches I have played, and I think that's great for coming into a big tournament like this."
Williams hoodoo
Sharapova has been drawn in the same quarter of the draw as Williams, who has won the last 15 meetings between the two players dating back to 2004, but she is determined to end the hoodoo and add to her Grand Slam haul.
"I want to achieve more and I want to win more Grand Slams and I want to get back to number one," she added.
"I think when you have that feeling of being there before and holding those trophies, they are so memorable and you spend so many hours training to feel that excitement, to feel that energy, that adrenaline for those moments of match-point victories.
"And that's why I play, because that's what I've known for my whole life. And my body still allows me to do that.
"I love the thrill of it. I don't think there is anything else that would give me that much satisfaction in what I do."