The world's top two Rafa Nadal and Novak Djokovic face each other in the French Open final on Sunday
Rafa Nadal and Novak Djokovic will face each other for the 42nd time when they play in the French Open final on Sunday.
Last Updated: 08/06/14 11:20am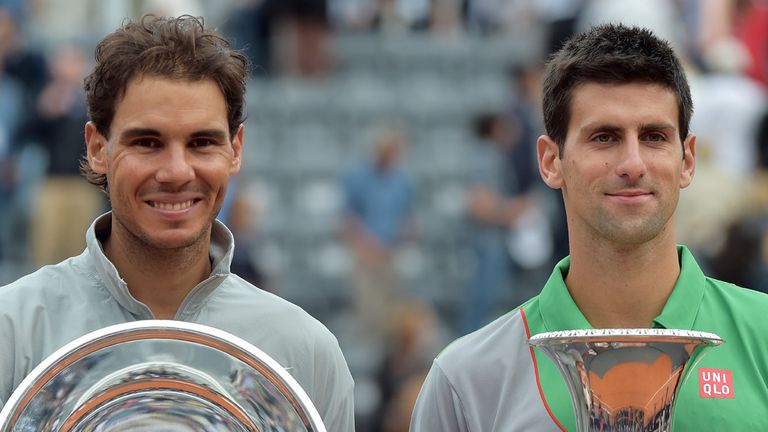 The pair know each other's game inside out - in fact no two players have faced each other more often in tennis history.
And the world's top two players are both seeking to cement their positions among the greats.
Nadal is aiming to be the first man to win five straight Paris titles to take his total to nine while Djokovic wants his career Grand Slam by bagging the only major to so far elude him.
Both have the strokes and the stamina and it may come down to who can control their on-court aggression and handle the pressure better in front of the 15,000 crowd on Philippe Chatrier.
After eclipsing Wimbledon champion Andy Murray in the semi-finals, Nadal said of Djokovic: "He has the pressure to win for the first time. I have the pressure that I want to win and the motivation that I want to win the ninth.
"I'm going to go on court with the same motivation than him. I don't know if the same pressure than him. Probably we are in different situations."
The Serbian second seed said he was trying not to get carried away by the stress of the occasion, after a wobble in the semis allowed Latvia's Ernests Gulbis to take a set off him before he regained his near metronomic consistency.
"Of course pressure is there," he added. "Expectations are there. They are always present when you are playing on this level.
"It is the finals of a grand slam that I never won, of course I'm going to give my best to lift the trophy."
History
On paper, Djokovic, 27, may appear to have the upper hand over Nadal, having won their last four tussles, including on the red dirt in Rome last month, when he dismantled Nadal 4-6 6-3 6-3 to hand the number one his third claycourt loss this year.
But they are not playing on paper. They are playing on the Roland Garros clay, Nadal's spiritual home, where he has an eye-watering 65-1 win-loss record.
Only four of Djokovic's 19 wins over Nadal have come on claycourts, and he lost to him in the Paris final in 2012.
"I think there is no doubt that he is the favourite to win," Djokovic said of Nadal, who he will swap places with in the world rankings on Monday if the 28-year-old Spaniard loses.
"But, okay, I have been playing some good tennis. The win in Rome a few weeks ago against him in the final definitely gives me confidence and hopefully self-belief."
Nadal seems to have plenty of self-belief too, declaring himself very happy with his "very fast, very powerful" forehand and acknowledging an improved backhand, ever seeking perfection.
"Is true that I lost a few matches, but playing the way that I played (against Murray) probably I will not," he said.
While Djokovic has former world number one Boris Becker in his corner, Nadal will have the history of Roland Garros, named after a French aviator, on his side when they vie for the Musketeers' Cup and the £1.34m prize.
"For me the only motivation is Roland Garros," he said. "Doesn't matter five in a row, four, or one. For me, always when I have a chance to win Roland Garros is a special thing. The rest of the things are less important."