2014 Wimbledon: Rejuvenated Heather Watson is looking for a better display this year
Last Updated: 18/06/14 10:26am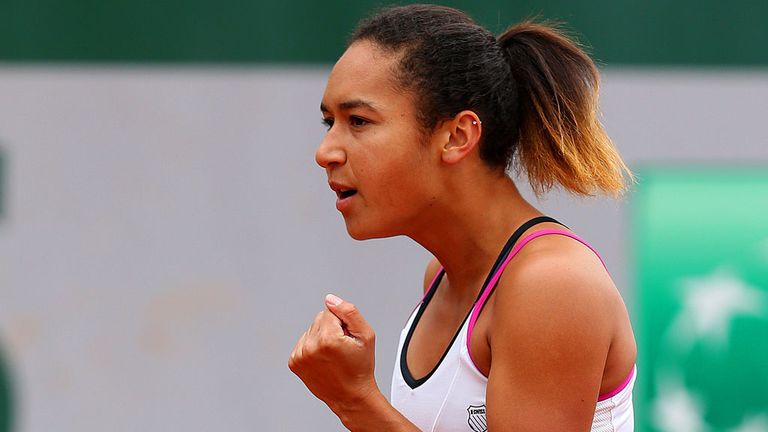 Heather Watson hugged the baseline like a safety blanket, hating what did not zip by in a blur.
As she slipped to an ignominious first-round Wimbledon exit last summer, the disorientated Watson fought in vain against glandular fever's debilitating grip.
Commanding the court's heart 12 months on, Watson stalks the net with a clean bill of health, a new coach - and a new game plan.
If impatience ruined 2013, Watson is adamant courage will continue her catapult back up the world rankings.
I think the illness really changed me, I'd never experienced anything like that before, and it's just added so much motivation to me.
Heather Watson
"I think this surface rewards the brave," Watson said.
"It's a very quick surface and the points are quick too, so your first few shots need to be very precise and very aggressive.
"I think I'm now doing what I need to do to push myself back up the rankings ladder, to push towards my big goals.
"I'm more aggressive now, I've changed my style, and that's what I think will get me to the next level."
Hindsight
Hindsight reveals Watson ploughed back into action with neither the health nor the preparation to thrive last summer.
Her straight-sets loss to American Madison Keys hit hard - but so too did the lessons.
The Guernsey-born 22-year-old will start Wimbledon ranked 92 in the world, back in the top 100 for the first time this season.
Argentinian coach Diego Veronelli has overseen a resurgence that has included two titles and a nine-match winning streak, only ended by Simona Halep.
The rejuvenated Romanian progressed from that second-round victory to the French Open final: ambitious Watson will not hail defeat, but is confident of an upward curve.
"Last year feels so long ago, it's almost a blur in my head now I think, because I'm just a completely different person now," she said.
"I didn't really want to remember last year but I'm enjoying my tennis now, and playing a lot better.
"Glandular fever is hard enough if you're not expending huge amounts of energy every day, let alone when you are trying to sustain a professional career as an athlete.
"It just takes it all out of you, but I'm fit and healthy now, and I'm just so pleased to be able to look after myself. I've actually had a few bumps this year already, I injured my rib earlier on, but I was able to come back stronger from that.
Changed
"And I think the illness really changed me, I'd never experienced anything like that before, and it's just added so much motivation to me.
"I've got two titles this year, that was one of my goals, to win another title. Last year I didn't win anything, and I've got two already this season, so I'm very pleased with that. And they were very tough tournaments.
"I just want to keep that up and keep trying for higher goals now, keep climbing the rankings ladder. It was a very tough second round at the French and she almost won the title.
"I had a tough draw but after all the matches I'd won I'm not too disappointed and hopefully I can learn a great deal from that. That said, it's not my goal to be reaching the second round of grand slam tournaments, I want to be heading into the second week and further than that."
Watson could leapfrog Laura Robson as Britain's number one this summer - but is uninterested in taking the title on a technicality.
Robson's wrist surgery has ruled her out of action at both the French Open and Wimbledon, but Watson is not considering profit.
"I'm more focused on the bigger picture and the world rankings," said Watson. "A top place in the world is the ultimate goal, and of course, it's such a frustration when you are forced to miss out with injury.
"I know what it's like not to be able to compete, everyone wants to be fit and in action, and hopefully she'll be back soon."