US Open 2014: Jo-Wilfried Tsonga claims Andy Murray has lost the fear factor
Last Updated: 01/09/14 3:48pm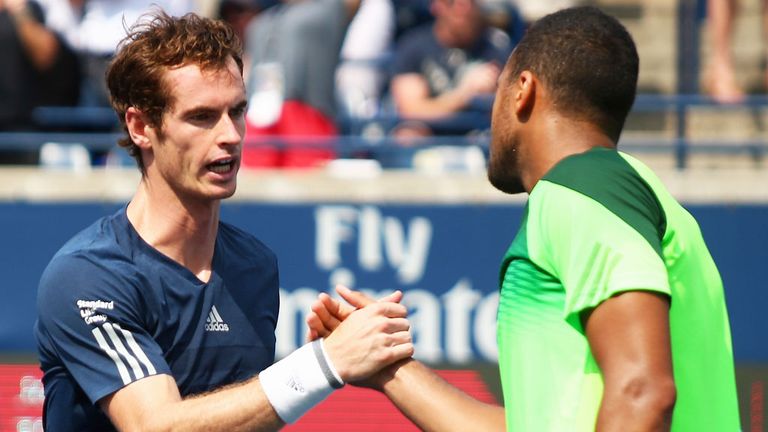 Jo-Wilfried Tsonga has claimed that Andy Murray no longer strikes fear into his opponents.
The Frenchman believes Murray is not the force he was and is ready to put his theory to the test when the pair lock horns in the fourth round of the US Open in New York on Monday.
Murray has not faced anyone inside the top 70 in the first three rounds at Flushing Meadows, yet has already dropped sets to Robin Haase and Andrey Kuznetsov, either side of a good performance against Matthias Bachinger in round two.
And should the Scot beat Tsonga, it would be his first victory over a top-10 player since lifting the Wimbledon title last year.
Tsonga said: "The locker room is maybe a bit less afraid of Andy because he's losing a few more matches than in the past. But I don't know any player who once on court is going to be super confident against Andy.
"He's different than in the past maybe because I feel he's not serving as strong as he used to, nor maybe hitting as strong as he used to.
"And during matches he's showing more when he seems in pain with his back or hip region, I'm not sure. You can see it on some moves, too."
'Close matches'
Murray leads Tsonga 9-2 in their head-to-head meetings but he was beaten by the Frenchman recently in the Toronto Masters.
"I played a good match," said eighth seed Murray, looking back to the Toronto match.
"I was up a break in the third set and didn't manage to close it out. So obviously if I get myself in that position again, hopefully I'll do a better job of that. But I don't need to change too much.
"It will be a tough match. We've played each other a lot of times. He's obviously playing well right now. He had a great week in Canada. He's played some good tennis so far here.
"I've had a lot of close matches with him but I've won a lot against him, as well. I would say my game matches up well."
Tsonga had been having a poor season until Toronto, where he beat Novak Djokovic, Murray, Grigor Dimitrov and Roger Federer back to back to lift the second Masters title of his career and climb back into the top 10.
Danger
The 29-year-old is not reading too much into his win over Murray and admits the best-of-five-set format in slams does not suit him as well as best of three.
"Andy is someone I know very well, against whom I don't have a good record," said Tsonga. "But I'm feeling good. I expect to play a good match. Playing three sets, it's always more physical. I like when it's in three sets.
"Toronto is positive because it means that I'm able to play well against him. I hope I will do that again.
"One shouldn't overestimate this win, he still leads our head to head and now he'll be aware of the danger and maybe it plays against me.
"A bit as with Djokovic, he's really tough for me because he returns very well."
Watch Murray take on Tsonga live on Sky Sports 3 on Monday.