WWE superstar and massive Liverpool fan Sheamus has admitted he's pessimistic about his club's chances this season.
The Dublin-born grappler loves to chat about football at the slightest opportunity and his recent interview with Sky Sports was no exception.
"We haven't strengthened the defence at all, which is what we needed after last season", Sheamus told us when asked about Liverpool's transfer dealings.
"We're still as shaky as hell, [Simon] Mignolet has his good days and bad days but I just don't know if it's going to be enough to carry us through the season."
Going into this afternoon's huge clash against Manchester City, live on Sky Sports Premier League, Sheamus admits he does not expect his beloved Liverpool to win the title.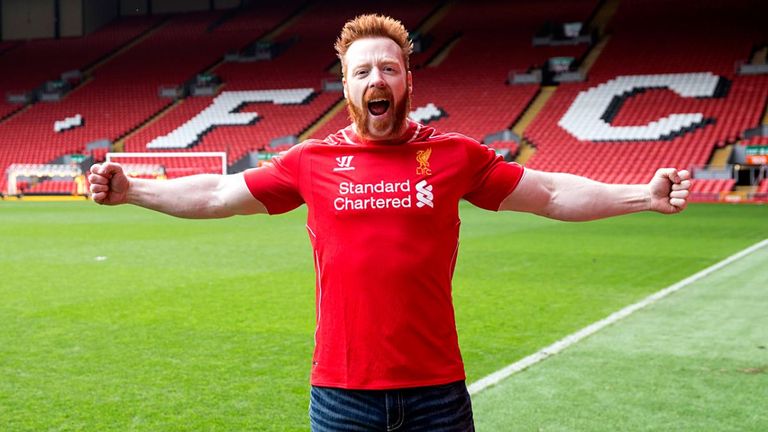 "Man Utd are looking really good, as are City. It's been since 1990 for a league title. As long as [Dejan] Lovren stops looking up at the sky when balls come in... I just don't know."
Sheamus is currently enjoying a run in WWE with tag partner Cesaro, but the pair are happy to laugh about the gimmicks they've had to endure during their spell in the company.
"Let's talk about Cesaro's rugby career," Sheamus revelled in telling us. "He had a 'top rugby career' when he came to WWE, he even used to do the whole tape around the legs.
"He was a fake rugby player, know why? Because William Regal (ex-WWE wrestler now working on development) thought 'er, rugby players are tough'.
"The he yodelled for a while, remember that? In fairness, I had balls in my beard, silver balls."
Despite the yodelling and silver beard beads, the pair are now seen as one of the most physical teams in recent WWE history.
But if you want to see a big man like Sheamus squirm, simply ask him about Liverpool's defence.