Tony Bellew accused a "rattled" David Haye of throwing a punch at their pre-fight media conference and also claimed his opponent's life was in turmoil.
The pair, who are preparing to meet at The O2 Arena on March 4, live on Sky Sports Box Office, became embroiled in a brief physical confrontation as they posed for pictures. 
Bellew (28-2-1 KO18) said: "We were talking, the security got a little bit too close and when David stepped up, he jammed his nose right up against my face, so I pushed him back to move him away from me and he punched me with a left hook.
"If that's the best he's got, he's in trouble on March 4 because I thought he hit harder than that, he definitely hits harder in sparring but is what it is, he's an idiot.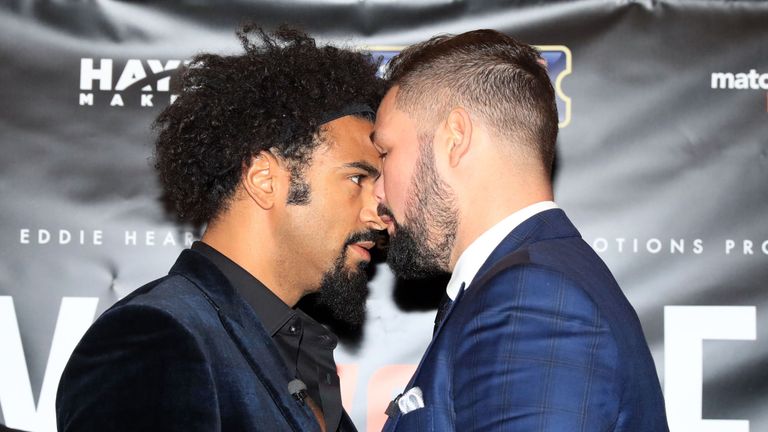 "I don't know why he's throwing a punch, I was literally trying to get him off me and get his face out of my face. 
"He seems very rattled and annoyed, listen if he wants to take it to the streets than I am more than happy because there's only one winner on the streets with someone like me."
However, Haye (28-2 KO26) maintained he was on guard and just responding to a Bellew push, saying: "If he thinks that is a punch, then he's got another thing coming."
Bellew, the reigning WBC cruiserweight champion, clashed with Haye following his dominant stoppage victory over BJ Flores at the Echo Arena in Liverpool in October.
Haye ended a three-and-a-half-year hiatus from the ring by defeating Australian Mark de Mori in January and followed that up with a win over Swizterland's Arnold Gjergjaj in May.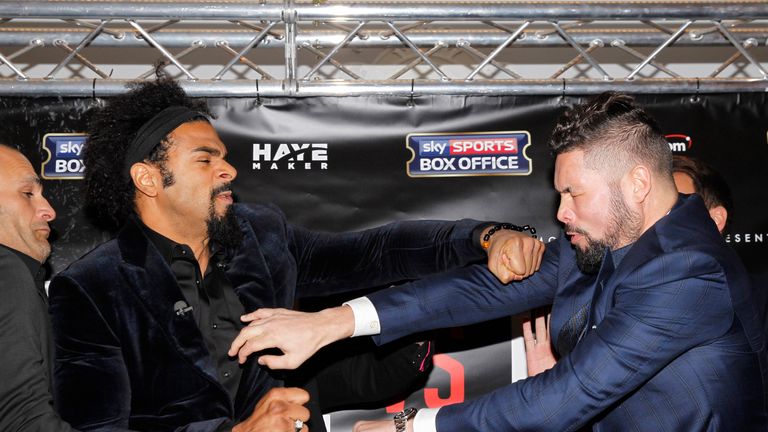 But as he prepares for his fight at heavyweight, Bellew suggested it was the former WBA heavyweight champion rather than him who was feeling the pressure ahead of their bout. 
Bellew added: "He looked very rattled, very shook, very angry, I don't know he might have had a domestic this morning, but he was very angry and very anxious.
"He was jumping in and around me, and when he put his face in my face, I don't want someone's face in my face, he's invaded my personal space, so it has to be addressed. 
"Why he is throwing a punch? I don't know, he's a maniac, he's crazy. Listen in the position that he is in, it can do that to you. 
"He's in a dangerous position, his life is in turmoil, he needs this fight on as fast as possible. He needs to cash Tony Bellew in, it's not going to happen on March 4."
Watch Anthony Joshua v Eric Molina at the Manchester Arena, on December 10, live on Sky Sports Box Office. Book the event online here.