Kieswetter hails captain Cook
Craig Kieswetter admits he is delighted that captain Alastair Cook is silencing his critics with some "fantastic" batting.
By Joe Drabble
Last Updated: 07/07/11 5:55pm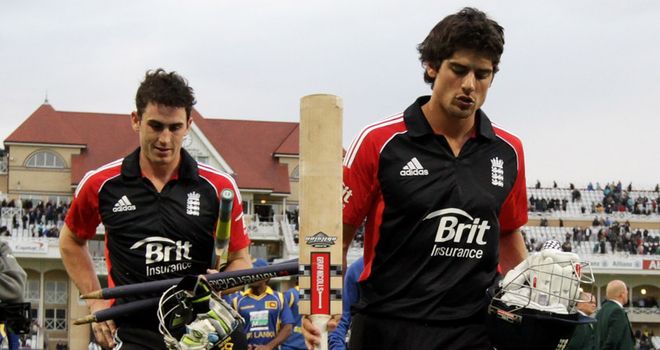 England opener Craig Kieswetter admits he is delighted that captain Alastair Cook is silencing his critics with some "fantastic" batting at the top of the order.
The new-look opening partnership stole the show on Wednesday night, sharing a record stand at Trent Bridge as England chased down a modest target of 171 to level the NatWest Series with Sri Lanka at 2-2.
Cook cracked 95 not out at a strike rate of almost 127 while Kieswetter, billed as England's pinch-hitter, was unbeaten on 72 when the target was passed in under half the 48 overs at their disposal.
After posting a century in a losing cause in the third ODI at Lord's, Cook is impressively making a mockery of pundits who labelled him a 'plodder' and questioned his ability to adapt his batting to the requirements of one-day international cricket.
Ethos
Kieswetter said: "He is performing exceptionally well but he understands he needs to put a long run in to get rid of the critics.
"It is not about proving critics wrong; it is about trying to help England win games of cricket, and the management and players have massively bought into this ethos and drive for what is best for English cricket.
"We lost a couple of games, but to bounce back like we did shows a selflessness from everyone in the team."
As for his own role, Somerset wicketkeeper-batsman Kieswetter believes he is starting to show he is no 'one-trick pony'.
"It is not a fact that I have to be labelled in the pinch-hitter role," he said. "It is an equal task for both of us to get the side off to a good start.
"Both of us have to be adaptable, because if one of us gets off to a flier it is not about competing with your partner.
"It is about building up a relationship and understand how the other bloke is going.
"As long as I am getting the side off to a good start with Cooky, I am not bothered about what my cliched role is."
England's opening pair completed their work, with Cook stranded just short of a second ODI hundred in four days and it did not take long for Kieswetter to understand he would be able to leave the big shots to his captain this time.
"From his first ball that he crunched through mid-off for four, I thought 'here we go, I'm going to have to play second fiddle and give him the strike'," he said.
Understanding
"The way he is hitting the ball is fantastic. The sound it makes coming off his bat is like a gun shot, so I am more than happy to keep flicking it down to third-man and fine-leg to give him the strike.
"He is hitting the ball cleaner than I have ever seen."
The new opening pair posted their first century stand together, at the seventh attempt.
"We've got a good understanding. Things normally take a while to build up, but we seem to be quite nicely getting on," said Kieswetter.
"Cooky has helped me get going a few times, and I have done the same to him as well.
"It is good to understand how the other one works in the middle and also where each other's boundary options and single options are.
"That helps you push ones into twos to steal another five or 10 runs in the powerplay."