Colly not expecting recall
Paul Collingwood is eager to win his place back in England's limited-overs sides but admits a recall is unlikely.
Last Updated: 23/09/11 10:36pm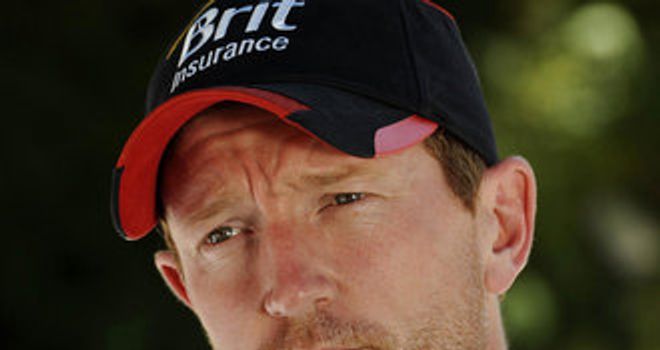 Paul Collingwood is eager to win his place back in England's limited-overs sides but admits a recall is unlikely.
The 35-year-old retired from Test cricket in January to concentrate on the shorter forms of the game but was stripped of his Twenty20 captaincy role and dropped from the 20-over and 50-over squads this summer.
Collingwood, who is England's leading runscorer in the 50-over format of the game, vowed to return to both teams but did not receive a call-up from the selectors for the recent series against India.
England have opted to blood the likes of Tim Bresnan, Samit Patel and Ben Stokes as all-rounders and have also given youngsters Jos Buttler and Jonathan Bairstow the nod ahead of Collingwood.
Collingwood has put in a series of solid displays for Durham in an attempt to catch the selectors' eye, but he admits that it will take "something extraordinary" for him to play for his country again.
"I am fairly realistic. We all probably know that my England days are done," said Collingwood.
"I haven't officially retired from one-day international cricket or Twenty20s but I think realistically, looking down the line, something extraordinary would have to happen for me to get back in the side.
"Maybe I will think about announcing my (full international) retirement over the winter.
"It's nothing that I have wanted to rush in to. I knew it was the right moment to leave the Test side and I guess I will just choose the right moment to leave the ODI and Twenty20 side."
The dropping of the Durham all-rounder, who led England to their first Twenty20 world championship in May 2010, came as a shock but the England selectors have become ruthless in the pursuit of their goal of becoming the top side in all three formats of the game.
The move appears to have paid off as England beat Sri Lanka earlier in the summer before swatting aside 50-over world champions India 3-0 and overcoming them in a one-off Twenty20 international.
No grudges
Collingwood, who is England's most-capped ODI player with 197 appearances, admits the team have moved on now and insists he does not hold anything against the selectors for discarding him.
"You have to realise that the management are the people who make decisions for the better of the England team. That might be hard to take but that's what kind of industry we're in," said Collingwood, speaking at the Professional Cricketers' Association awards in London on Thursday night.
"There's been no frustration whatsoever this summer. I was disappointed to lose the captaincy when I did but you have to move on.
"The guys have moved on. When you drop out of the team you have to find a new direction for yourself and that's exactly what I did.
"Playing for Durham has been exciting. I signed a three-year contract last month so I'm looking forward to carrying on contributing there."
Stuart Broad has taken on Collingwood's place as skipper in the Twenty20 side and has one won and lost one in his two games in charge.
Collingwood has backed the Nottinghamshire seamer, who is out until January with a shoulder injury, to help England retain their crown at the Twenty20 World Cup in Sri Lanka next year.
"Can we win it again? Of course we can. Why not?" Collingwood said.
"The boys have been fantastic this summer against India and they have gone from strength to strength.
"Look at the talent that's there. What they have now is the belief that they can do it. Obviously the pressure is on England having the trophy but I think they will rise to the challenge."
Collingwood was particularly impressed with Bairstow's hard-hitting knock of 41 off 21 balls against India in Cardiff last week and has predicted a bright future for the Yorkshireman.
He said: "I guess players and characters take their debuts in different ways and Bairstow seemed to love this situation and the atmosphere.
"If you had looked at that innings 30 or 40 games down the road, you would have said it was a good innings, but for him to do it in his first match was an exceptional effort."