Stuart Meaker expects Steven Finn to be fit for the first Test with India next week
Stuart Meaker does not expect his dash to India to turn into an England Test call with Steven Finn close to a return.
Last Updated: 10/11/12 3:58pm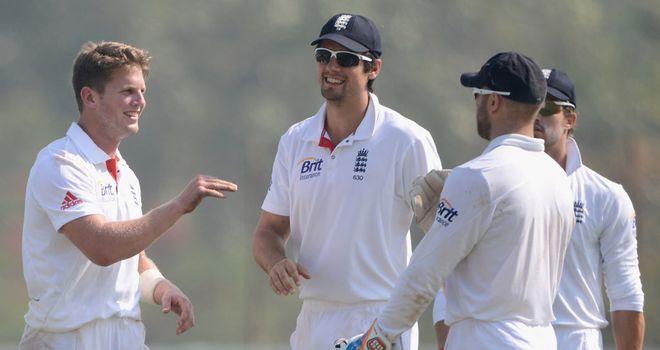 Finn continued to work in the nets on Saturday as England were dominating their final warm-up clash against Haryana in Ahmedabad.
Jonathan Trott (61no) and Nick Compton (54no) shared an opening stand of 118 to put England 305 runs in front heading into the final day.
Meaker was called up as cover for Finn and Stuart Broad, who seems less likely to feature in the first Test with a heel injury, and he did his case no harm on Saturday with three wickets as the hosts were dismissed for 334.
"Looking at how Steven is going, he's getting closer and closer to being ready," said Meaker.
"It's never nice to hear it's because one of your fellow players has gone down through injury. But it's a great chance for me personally to show the guys what I've got - and luckily, I've shown them I can take a few wickets out here.
"If I looked at the short term and thought only about this tour, I could get quite disheartened - knowing I could come here, play a game, take a few wickets and then perhaps get sent back to the EPP.
"But I look at it more long term, a great chance for me to show the new Test captain I can perform in these conditions - and that will bode well for a future Test call.
"I was nervous, because you wish you could come here on the back of a hot streak - having taken loads of county championship wickets - and blast on to the scene.
"Sometimes life just doesn't work like that. But I certainly haven't done myself any harm by taking a few wickets. Being called in is a great feeling for me, because I know it could potentially just be round the corner."