David Warner must repay Australia, says Ian Harvey
David Warner needs to knuckle down and show he's a leader, Ian Harvey told Sky Sports News.
Last Updated: 13/06/13 2:47pm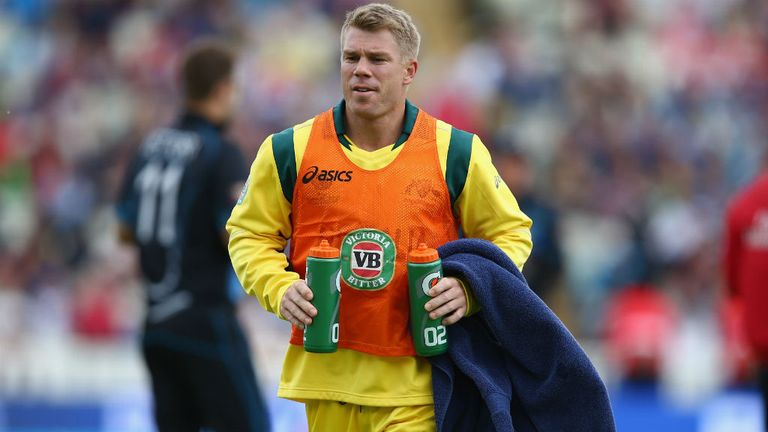 The 26-year-old has been suspended until the first Ashes Test for an alleged attack on England's Joe Root in a Birmingham bar, but avoided being sent home as many critics were advocating.
Warner, fined £7,000 (AU $11,500) for the incident that took place on Sunday following the team's ICC Champions Trophy defeat by England, will miss the rest of the tournament but will be available for the opening Ashes showdown on July 10.
Harvey, all-rounder for Australia between 1997-2004, said: "Warner is classed as a senior player and has been spoken about as a future Australian captain.
"This is now something for him to deal with. He'll want to turn it all around and show he is a leader. He is a senior member of his team and he deserves this chance. If he gets the opportunity he'll need to turn it around.
"The worst case scenario was Warner being put on a flight home but as an Australian that's not something we wanted to see. It's not great, though. He's a role model to many people and he's important for the team but if Cricket Australia saw he had broken the code of conduct then he should have been sent home.
"He is crucial for the team, though, and come the Ashes he will play a very important role at the top of the order. For me personally, and for David Warner and for the Australian public, we hope it's all sorted. It would have been a massive disappointment had he gone home."
Whitewash
It has been a torrid few months for Australia with a dismal one-day showing in India and ongoing injury problems with skipper Michael Clarke hampering the build-up to the Ashes series as they attempt to secure their first victory on English soil for 12 years.
Warner, who has played in 19 Test matches for his country, may feel fortunate to be given another chance following last month's fine for an irresponsible Twitter exchange with Australian journalists.
"The team have had a tough time for the last couple of months," Harvey added. "There were issues in India, there was the tweeting incident with Warner and this again.
"You would hope that once this is all done and dusted, the Australian team get together and make sure nothing likes this happens again. They need to be a group and be strong. They are playing a very good England team and they need to be together to have a chance of winning the Ashes series.
"Our bowling is OK and the bowlers should do well in these conditions but it's the batting that's a concern. Hopefully Michael Clarke will be fit for the last Champions Trophy game. We definitely need him come the Ashes.
"We have struggled without the skipper. He has been in outstanding form over the last two years and some of the other senior players like Warner and Shane Watson have to stand up and start helping Clarke. He can't do it on his own which he has done for the last two years."
Some are predicting an England whitewash with the teams battling for the famous urn, but Harvey disagrees.
"It will be closer than what many people anticipate," said Harvey. "Many think it will be comfortable for England but matches between these two teams are always tight and tightly-contested.
"Come the Ashes, we'll see a real fight from Australia. I think people in Australia have expectations and it would be great to win the Ashes series in England but we have to wait and see. But there are things that need to be addressed first and the batting is one of those."