Man of the day
Mitchell Johnson produced another outstanding effort on day four at The Gabba as Australia completed a crushing victory
Last Updated: 24/11/13 11:36am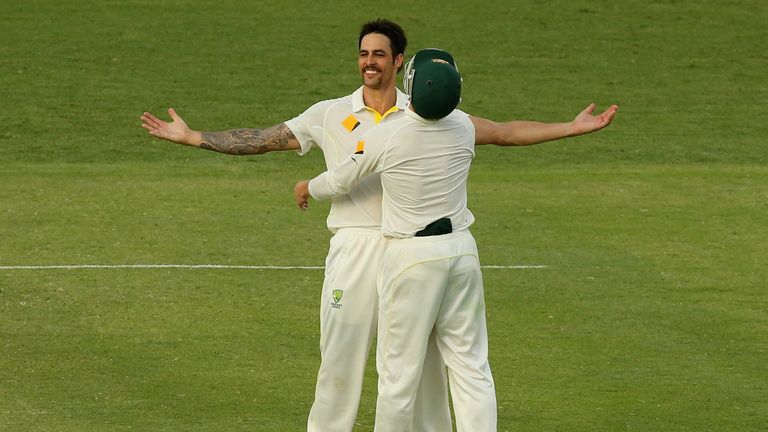 While the raw statistics are impressive; match figures of 9-103 to go with 103 runs, it was his impact in the high-pressure moments of the game that really stood out.
He followed up his seventh-wicket partnership of 112 with Brad Haddin on day one by bouncing out Jonathan Trott on the second day, a precursor to England's batting collapse.
Johnson bowled with pace and hostility, unsettling the visiting batsmen on a quick pitch, in particular Trott who he dismissed in both innings.
Built like a cruiserweight boxer, he is the most intimidating bowler in world cricket today. If you don't believe that then ask Graeme Smith, whose hand he has broken twice or Kumar Sangakkara, another to have suffered bone damage from a Johnson delivery.
In the past, the 32-year-old Queenslander's physical strength has often been matched only by his fragile confidence. When expectations have been high, as they were for him coming into this match, he has often gone missing.
The 'Barmy Army' - a section of England's travelling support not noted for their subtlety - have delighted in barracking Johnson in recent Ashes series.
Performances like the ones he served up in Brisbane three years ago (wicketless in 42 overs) and Lord's in 2009, when his control totally deserted him, have only encouraged the baiting and made it easy to forget the other side of the Johnson enigma; Perth later in the 2010/11 series for example.
Johnson had an unhappy tour of India on Mickey Arthur's watch back in March when he was among a quartet of players banned for a Test for failing to complete a feedback assignment.
He was overlooked during Australia's 3-0 defeat in England last summer but, with Arthur now replaced by Darren Lehmann, his revival started in the one-day series that followed when he roughed up Trott and bowled consistently above 90 mph.
Still, when he said of Trott in the build-up: "If I can get a few of those rearing balls towards the ribs, or a throat ball, it is his fault if he gets in the way", the first response was to roll the eyes and wonder who he was trying to convince - his audience or himself.
For the moment, Johnson's confidence is for real and, if he can back it up with something similar in the Adelaide and Perth in the next two Tests, then the Ashes could well be back in Australian hands sooner than even they would have dared believe a week ago.