Matt Prior to have wrist surgery next month but hopes for England return in future
Last Updated: 15/08/14 10:14pm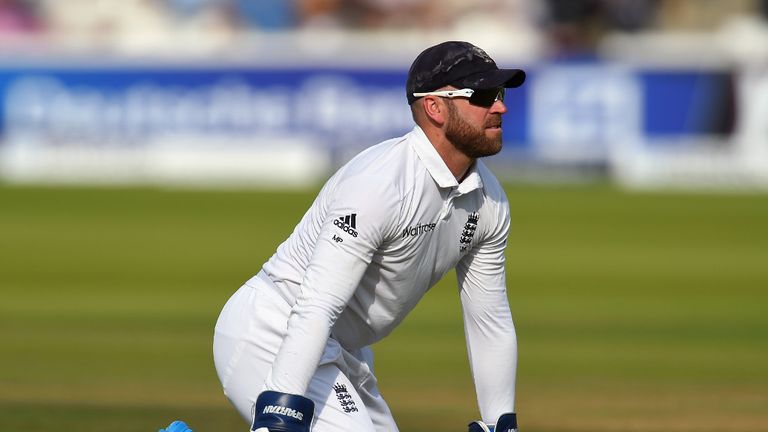 England wicket-keeper Matt Prior is expecting a long spell on the sidelines after confirming he will undergo Achilles surgery next month.
Prior anticipates a long period of recovery after admitting defeat in trying to get over the long-standing problem while still giving his best for his country.
He took a break from his England commitments last month in a bid to get back to full fitness, with surgery on his Achilles a clear priority, although the 32-year-old added he also had a torn quad muscle and an injured hand.
His position in the national set-up had come under considerable scrutiny after below-par performances with both gloves and bat against India this summer, with his place for the final three Tests going to Jos Buttler, who has done nothing but impress since.
However, Prior, who has been one of England's key performers in recent years, has not given up hope of representing his country again.
"I'm still hurt, I've seen the specialists and surgeons and everything else. I'm having an operation on September 4 on my Achilles," said Prior in an interview with ESPNcricinfo. "My Achilles has been the main issue, it's been pretty bad, to be honest.
"It's not the end, but there is a long road back and it starts from September 4 with four months of rehab to get as fit as I possibly can.
"It was a massive decision, but I went as long as I could. It's been shown by specialists that I couldn't physically have gone on any longer. So it's now time to get it right, get fit again and come back stronger."
Prior also paid tribute to Lancashire keeper Buttler, who has settled well into the side after scoring half-centuries in his only two innings.
"I think he's done brilliantly," added Prior. "The one thing he has done that is massive for keepers is scoring runs. When you're scoring runs it takes pressure off your wicketkeeping.
"Jos has done brilliantly and good luck to him."