Cricket Expert & Columnist
Royal London One-Day Cup a perfect stepping stone for 2015 World Cup selection
New competition offers raft of players the chance to press England claims...
Last Updated: 25/07/14 3:46pm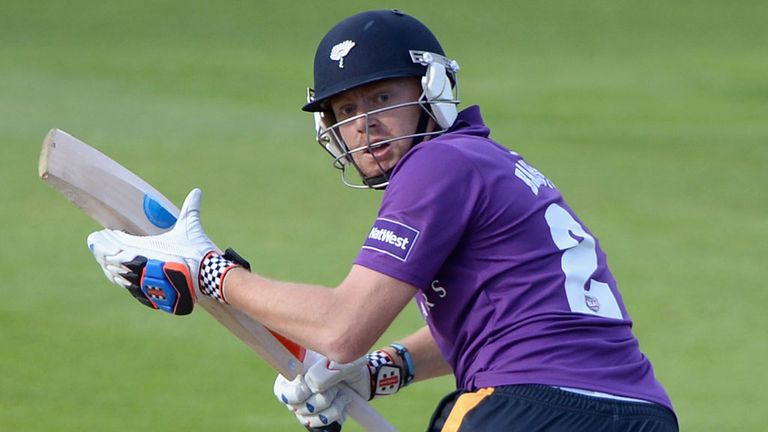 Roses rivals Lancashire and Yorkshire lock horns on Saturday in our opening live match of the new 50-over Royal London One-Day Cup.
Former fast bowler Bob Willis told us why it will be essential viewing…
Why has this competition replaced the Yorkshire Bank 40?
Bob: It's all about replicating international 50-over cricket at domestic level. The ECB regard this as a very important stepping stone for England selection for the 2015 World Cup – and not before time because some of our recent performances have been poor at best. Hopefully the competition will grab the public's attention, but it will be tough because they seem hooked on T20.
Why are the two groups randomly drawn rather than organised by region?
Bob: It's good that the counties get around to the outposts. Dye-in-the-wool county supporters like to see different opposition at their grounds – one of the fears raised by the introduction of two divisions in the County Championship was that it could spell the end for some local derbies. The key is that the fixture list is kind to the players. Back in the day I remember finishing a County Championship match for Warwickshire on Friday at Lord's, travelling on Friday evening to Southport, going to Maidstone on Saturday evening and then heading back to Southport on Sunday evening. That was crazy and it was no surprise when we got bowled out cheaply at Maidstone!
Is it tough for today's cricketers to switch from 20-over cricket to 50-over and back again?
Fifty-over cricket is somewhere between the four-day game the players are used to and some of the innovations of 20-over cricket will spill over into 50-over cricket, which will only make it more exciting.
Bob Willis
Bob: The counties have to lump it. It's not ideal from a playing point of view but it was inevitable once the board decided to spread T20 over the summer. The players are very keen to have the T20 fixtures in a block so they can concentrate on that form of the game but that's not how things are right now. Still, I think the players will be fairly adaptable. Fifty-over cricket is somewhere between the four-day game the players are used to and some of the innovations of 20-over cricket will spill over into 50-over cricket, which will only make it more exciting.
We've a cracking Roses match to look forward to on Saturday…
Bob: Yorkshire have probably got the most powerful squad in the country. The captain, Andrew Gale, left himself out early in the County Championship season such was his team's depth. They've got 10 useful bowlers to pick from at any one time so even though I think their priority will be the County Championship, they'll still be able to put out a very strong outfit and people like Jonny Bairstow will be making a claim for getting into England's World Cup squad if there is any hiccup with Jos Buttler.
Bairstow is part of a very powerful Lions squad. Which other players – either from that squad or outside it – can press their England case in this competition?
Bob: I always feel a bit sorry for Samit Patel at Nottinghamshire. His face doesn't seem to fit with England but I think he's a very, very capable cricketer indeed. Given a chance, would he have done any worse than Moeen Ali in the Test team? It's difficult to say but I guess the selectors think he's had his opportunity and they've moved on. He could well make a case where they can't leave him out. It's also going to be interesting to watch some of the quicker bowlers. I was particularly impressed by Stuart Meaker in Surrey's T20 win over Middlesex.
That Lions squad is very strong. I've heard good things about Ravi Patel at Middlesex – he and Kent's Adam Riley seem to be the only spin bowlers of the future. It's disappointing that exciting batting talents like Alex Hales and Jason Roy don't perform consistently in the four-day game but clearly Roy has been exceptional in T20 cricket and Hales has done it on the international stage. It would be good to see both of those players come good for a sustained period of time.
Who do you expect to go deep in the competition?
Bob: You have to look at counties who won't be affected to a large degree by England one-day calls. I've already mentioned Yorkshire's capabilities but I think Lancashire could do well in one-day cricket too, although they'll miss Jos Buttler while he's away with England. I like the look of Nottinghamshire if Hales, Michael Lumb and Patel turn out regularly while Middlesex will surely go better in 50-over cricket with Eoin Morgan and Steven Finn to the fore than they have done in T20 cricket. If I have to punt on an eventual winner, though, it would be between Nottinghamshire and an ever-competitive Warwickshire outfit.
Watch Lancashire take on Yorkshire in the Royal London One-Day Cup, live on Sky Sports 2 this Saturday from 1.30pm.